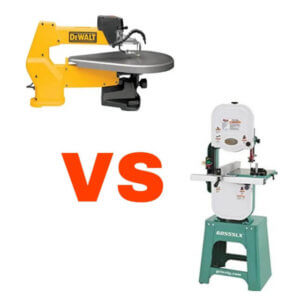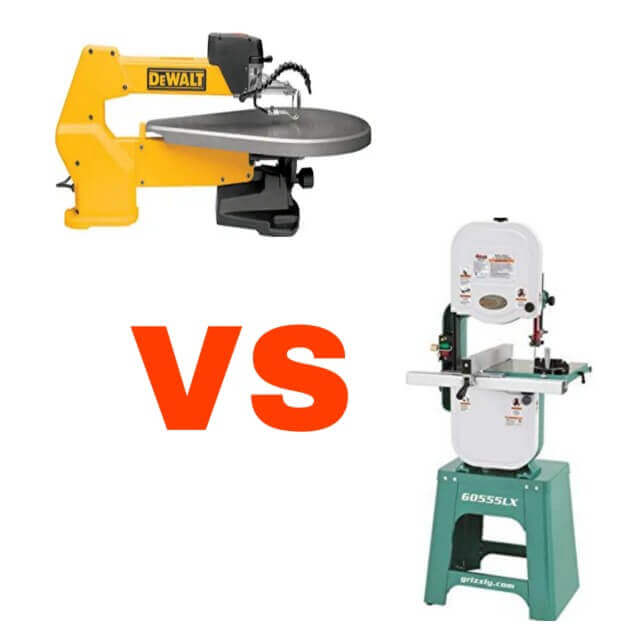 We all know that there are many types of saw available in the market like a jigsaw, band saw, scroll saw, chainsaw, miter saw, circular saw and more. Whenever you type scroll saw or band saw in the Amazon search box, you will get a list of both saws instead of a single type of saw. That's where we get confused because both of these are similar but not the same. So, it becomes important to know first what are the type of projects that we are going to do. Second important thing is to know the differences and similarities between a scroll saw & band saw so that we can choose our saw according to the needs. That's why I am going to write on this topic: " Scroll Saw vs Band Saw – Which One Should I Buy " in which I will also show you the comparison table ( differences & similarities ) between scroll & band saw so that you don't have to waste your time by reading long paragraphs.
What is scroll saw? Why do we use a scroll saw?
A scroll saw is an electrically-powered tool used for cutting clean & intricate curves, which you can operate by using its paddle ( its action is very much like a sewing machine ). Scroll saw is like a double-ended jigsaw which uses a very thin reciprocating blade ( oscillating up & down ) of approx a quarter-inch thick and 5-inch long, vertically mounted on the top & bottom of the surface.
A scroll saw is a really neat addition to the woodshop. There is so much stuff that you can do with it like making Christmas ornaments, jigsaw puzzles, any tight corners or an accurate right-angle cut and many more complex designs. The super-detailed design is possible due to its variable speed feature ( controlled by a foot pedal or a knob ), tilt-surface feature, and its fine blades. The tilt-surface feature means you can adjust its working surface at an angle according to your comfort zone.
You might be thinking that why don't we use a jigsaw instead of a scroll saw?
The answer is yes, you can use it too but scroll saw gives more precise cuts as well as comfortable cutting. One of the important things about scrolling is that you want to be comfortable. If you're not comfortable and you're hunched over the saw and your back is aching, you're not going to produce a good product. That's why scroll saw is most preferred over jigsaws. If you want to do small projects, not on a regular basis then you must go for a jigsaw.
Advantages & Uses of a scroll saw:
As I said above, it is used to make beautiful complex curve designs which are not possible in a band saw ( band saw can cut curves but not complex, sharp & tight curves ).
This saw is very safe, even an 8-year-old kid can work on this.
They are used to do intricate cuts.
You can also use the scroll saw to cut dovetail joints.
The scroll saw comes with a table-tilting feature which helps you to do angled cuts comfortably.
Most of the scroll saws come with a light and dust blower to make your surface illuminated & clean respectively.

Here is the best scroll saw which you can buy now:
DEWALT DW788 1.3 Amp 20-Inch Variable-Speed Scroll Saw
No products found.
PROS:
You don't have to guess where to turn a tension knob because it has numbers on it.
Unlike other old or cheap scroll saws, you can easily change its blade with the help of its tool-less blade clamp.
The foot pedal will stop under a second when you will take off your foot from the pedal.
It comes with an inbuilt blower which helps to keep the working surface clean.
Unless other scroll saws, the table of this 20″ Dewalt DW788 scroll saw can tilt in both directions up to 45-degrees.
For quick & accurate adjustments, it has a variable speed feature varying from 400 to 1750 SPM ( Strokes Per Minute ).
It has a 1.3-ampere variable motor which gives you the stroke length between 0.75 to 2 inches deep.
To get an accurate cut, a scroll saw must produce very less vibration or noise and it is possible in this saw due to its double-parallel link arm design.
The thick cast iron table also helps to reduce the vibration.
For safety purpose, it comes with a blade guard.
You can easily affix it to a workbench because it comes with 2 pre-drilled holes.
CONS:
Weight is little more ( 56 lbs. ) in comparison to other scroll saws ( not a serious issue ).
Expensive ( but it's worth the price ).
No products found.
And here's the budget friendly option ( value for the money ):
No products found.
You may also like my review article ( along with buyer's guide ) on the jigsaws. To know more about top jigsaws available in the market right now.
Click Here To Read
.
---
Get 16000 woodworking projects, categorized properly & wood plans available for both beginners & professionals. When I was checking the files, it was not exactly 16K but it's more than enough ( value for money / also has lifetime updates )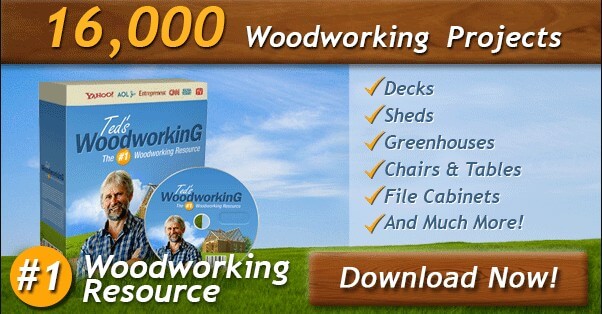 ---
What is a band saw? Why do we use a band saw?
A band saw is a versatile tool which is specially made for contractors to cut curves, uniform & irregular cuts just like a scroll saw but unlike the scroll saw, it can cut on hard thick wood ( up to 12 inches thick ) or even metal with a proper blade ( proper material & TPI ). The band saw is a vertically oriented tool which consists of 2 large wheels, i.e. upper wheel & lower wheel ( rotating on the same plane ) on which a sharp flexible blade runs uniformly towards the table like a cycle chain. This saw does not oscillate up & down as a scroll saw, so there is no vibration.
Advantages & uses of a band saw:
If you are using a wider & heavier blade in a band saw then you can add a fence to it and give the right set up on the fence which is drift compensation. You can use this much like you would use a table saw and do a lot of ripping. The big deal with this is because the blade is driving down toward the table you don't have any kickback danger like you do on a table saw. This provides a really really wonderful way to cut small parts like you would for pen turnings.
It has the ability to cut non-ferrous metals like aluminum, brass, copper with a fine-toothed blade.
The band saw is versatile because it has the ability to go from as little as a quarter or eighth-inch blade, all the way up to maybe a 3/4 or one-inch blade for cutting through thick material. You can set up a bandsaw like a sawmill and you can turn logs into lumber.
It is also used for meat cutting & timber cutting.
With the help of this saw, you can easily make curved legs for your furniture.
By using a thicker & more aggressively tooth blade, you can do 'resawing' operation. Resawing is basically an optimization of a bandsaw for slicing the large section of hardwood blocks into smaller sections ( thin pieces ).
Here is the best band saw which you can buy now:
Grizzly G0555LX 14″ Deluxe Bandsaw
No products found.
PROS:
It has a powerful 1 hp motor rotating @ 1725 RPM
The variable-speed motor runs its blade from 1,800 to 3,100 FPM.
This band saw is great for 'resawing'.
No tuning required.
4″ dust port works pretty well.
It comes with a sturdy aluminum T-shape fence & a miter gauge which is super nice.
The maximum cutting height of this Grizzly G0555LX is 6 inches.
This saw has a good quality, heavy ( 247 pounds ) & sturdy table.
It has iron wheels ( with rubber tires) which are controlled or balanced by the computer.
This Grizzly saw has a heavy-gauge steel stand.
The table of this saw can tilt in both directions but 45-degree to the right & only 10-degree to the left.
It has also a quick blade tension release at the top of this band saw.
Assembly instructions are clear & easy, so it is easy to set up this saw.
CONS:
Trunnion easily slips out of alignment while tilting the table.
Expensive.
Heavy.
No products found.
And here's the budget friendly band saw ( top-rated ):
No products found.
Now, let's compare scroll saw & band saw using a table so that you can easily get all the points in one place if you have missed any.
Comparison Between Scroll Saw And Band Saw
SCROLL SAW
BAND SAW
1. TABLETOPS: It has a table that can tilt.
1. TABLETOPS: It has also the table-tilting feature.
2. PORTABILITY: The scroll saw is portable.
2. PORTABILITY: It is heavier but not very very difficult to move.
3. MOTOR: It has a variable speed motor.
3. MOTOR: It has just a single fixed speed.
4. LOCKING KEY: Scroll saw doesn't have an ON/OFF switch locking key.
4. LOCKING KEY: It has a power-lock key ( without it, you can't turn the band saw on ).
5. PRICE: It costs less in comparison to the band saw.
5. PRICE: It is expensive.
6. NOISE: Scroll saw makes very less noise.
6. NOISE: Comparatively noisier.
7. POWER CORD: It uses 3 prongs power cords, so they're grounded.
7. POWER CORD: Bandsaw also uses the 3 prongs power cord.
8. DUST COLLECTOR: The scroll saw comes with a dust-collecting port at the bottom.
8. DUST COLLECTOR: It has a large dust-collecting port at the bottom.
9. ACCESSORIES: It doesn't have the ability to take any accessories.
9. ACCESSORIES: Comes with an adjustable miter gauge.
10. CROSSCUT-SLED: It doesn't have the capacity to take crosscut-sled.
10. CROSSCUT-SLED: It has the capacity to take crosscut-sled but you will have to make your own.
11. BLADE:

1. Scroll saw uses a pin-end blade.
2. The scroll saw blade will get dull after a few months because a very small portion of the blade is used for cutting ( So, more wear & tear on that portion ).

11. BLADE:

1. This saw comes with an in-built belt of a very specific length ( 1 big loop ).
2. The band saw blade will last a lot longer because a large portion of the blade is used due to the big blade loop (So, less wear & tear on a particular portion).

12. SAFETY: Unlike a table saw, it is very safe to use.
12. SAFETY: It is also very safe (no kickback like a table saw).
13. MATERIAL: It can not cut thicker material; maximum 2 inches.
13. MATERIAL: It can cut thicker materials up to 12″.
CONCLUSION :
I have tried my best to explain the differences between a scroll saw and band saw in simple words.
Here is the short summary:-
Buy a scroll saw:
If you are a professional in making a scroll saw projects which usually include intricate cuts, complex, tight & sharp cuts.
If you need a comfortable position while cutting curves for hours ( you can't get comfortable if you use a jigsaw ).
Buy a band saw:
if you are a contractor,
want to cut very thick blocks of timber up to 12 inches.
If you are a furniture maker.
I hope I am able to do away with your doubts! Happy Wood-working!
You May Also Like These Articles On Power Tools: