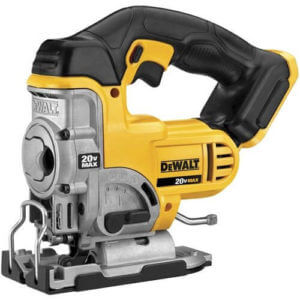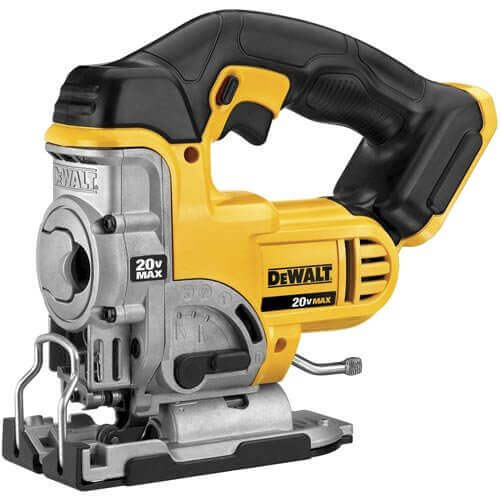 We need a jigsaw tool because it is more useful in comparison to other saws. It can do a unique type of work like cutting curves or making holes on almost any material like wood, metal, fiberglass, drywall, etc ( if a proper blade is used ), which other saws are unable to do. It is considered the second most important tool after a drill for a DIY-er. Hence, its features make it an important & unique tool for your workshop. Let's discuss on uses of a jigsaw tool, why do we need them? It is used for:
cutting curves
wood cutting
metal cutting
concrete cutting
ceramic tile cutting
cutting countertops
carpet cutting
making bevel cuts
pumpkin carving

[totalpoll id="5341″]
Cutting Curves
You can cut curves on materials like wood, plastic, concrete, ceramics & more with this portable tool. You will not find any other compatible tool for cutting curves which is very user-friendly and also portable. Portable, because it comes in both corded & cordless. This means you can take your jigsaw anywhere and cut the curves on the place where you like. Don't worry, if you are not buying a cheaper cordless jigsaw then you will not face any battery problem because nowadays technology has developed. Some of them come with an LXT lithium-ion battery which charges very fast & runs longer.
How to cut a curve with a jigsaw?
To cut a curve on the material, the things which you will have to do:
Of course, a jigsaw with high stroke per minute ( SPM ) & variable speed feature for extra control.
Get a set of slim & flexible scrolling blades ( easy to change the cutting direction ).
Make a freehand cutting line with a pencil on the material where you want to cut.
If you are a beginner then you will face difficulties in freehand cutting, that's why use a template.
Cover your nose & mouth with a face mask for safety purpose.
Now, guide the blade at the cutting line, press the trigger & slowly push it in that direction.
Adjust the speed according to edges with the help of variable speed trigger. Go slowly at tight edges.
NOTE: You don't need any orbital action feature in a jigsaw for cutting curves. You must keep it off for an accurate & clean curve cutting.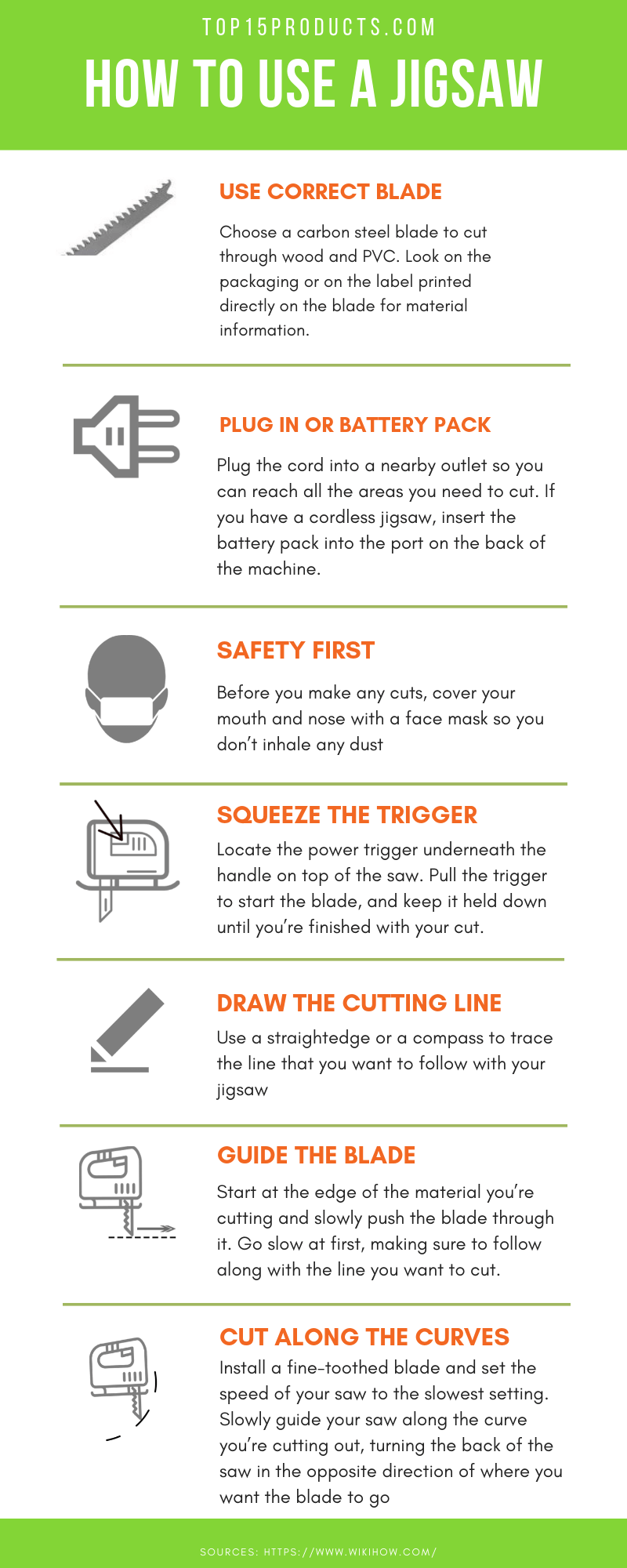 Share this Infographic On Your Site
Wood Cutting
A jigsaw can cut a thick wood or any plywood very easily if a right blade is used. Use a down-stroke cutting blade for wood. It is the most common use of a jigsaw. Professionals or an enthusiastic DIY-er use it very much in their wood projects like making beautiful designs or patterns on wood for making furniture or any other things. If you are new to this then don't use it for these type of projects otherwise you will ruin your costly wood by either burning it or making a wrong cut.
Metal Cutting
You can also cut a metal sheet of thickness up to 10 gauge or make a hole in it by using a proper jigsaw blade. Follow these steps to cut a metal sheet:
How to cut metal sheet with a jigsaw?
A right blade is very important for this purpose. So, choose a blade which has 20~25 teeth per inch (TPI).
Also, keep a set of blades on hand because the blade gets damaged or useless quickly after cutting metal.
Go for the best jigsaw tool which has higher SPM ( strokes per minute ), variable speed trigger & an orbital action.
Clamp the metal sheet in between the thin plywoods so that the edge burrs and shredding do not occur while cutting.
Keep the speed low if you are doing a straight cut.
Lubricate the saw cut with lubricating oil.
If you want to make a pattern on a metal sheet instead of normal straight cutting then don't make a plunge cut. Instead of that make starter holes.
Concrete Cutting
It can cut a concrete or fiber-cement block by using a good concrete blade but I will not recommend using a jigsaw on concrete because it reduces the lifetime.
You can buy this Bosch 30-grit diamond T-shank jigsaw blade for concrete cutting:
No products found.
Ceramic Tile Cutting
You can cut or make a curve on a ceramic tile but it requires a lot of patience and experience, otherwise, your tile will get break into pieces. You will have to take special care for different thickness of the tile. Let's discuss the steps.
How to cut ceramic tile with a jigsaw?
First of all, buy a toothless

carbide-grit ceramic blade

.
Clamp the tile to reduce vibration for avoiding breakage.
If the tile is thin then lubricate it with water time-to-time, to avoid the breakage.
For the thick ceramic tile, use lubricating oil on the saw cut.
Go very slowly while cutting curves or making patterns.
Cutting Countertops
A jigsaw is used many times while installing countertops. To fit things like kitchen faucets, you will have to make various cuts & curves using a jigsaw. Let's discuss how to do it.
How to cut countertops with a jigsaw?
Bytheway, I will recommend you to use a circular saw for countertop cuts while installing sink because it is faster than the jigsaw.
If you don't want to use that then you can use a good

jigsaw

.
Buy a down-stroke laminate blade of 8 TPI ( teeth per inch ), specially designed for countertops.
Put a tape on the bottom of the saw shoe to avoid spoiling/marring the countertop.
Tape the area on the countertop and make a pattern line where you want to make a cut.
Drill a half-inch starter hole in the countertop.
After that, press the trigger & follow that pattern line marked on that tape slowly.
Carpet Cutting
I know that it is not famous or known for carpet cutting but it is very useful & accurate than using a normal knife. If you want to cut a carpet made up of polystyrene or leather then use a "special soft material blade"
No products found.
Making Bevel Cuts
Nowadays, most of the jigsaws come with a keyless shoe bevel with detent up to 45 degrees which helps you to make bevel cuts very easily without the use of any table saw. There is a locking lever present in a jigsaw which can be used to make the jigsaw tilt to the left or right ( if the lever is released ). After setting it at the required angle cut, pull the lever back to lock this angle so that it cuts the material at that angle, known as bevel cut.
Pumpkin Carving
If you want to make some cool pumpkin carvings for Halloween then a jigsaw will help you and make your work faster. Well, you will need some more power tools like a drill, hole saw, rotary tool, & more, in addition to a jigsaw for pumpkin carving.
Hope, you may have got the reasons why jigsaws are considered as an important part of the workshop and what are their uses. I have also covered some topic like how to do wood, metal, concrete, ceramic, countertop & bevel cutting along with this article so that you don't have to go anywhere else.
If you want to know about some best jigsaw tools along with pros & cons & buyer's guide then check this article.
Are you in a hurry???
No problem!!!
Here is the best corded-jigsaw tool available in the market:
No products found.
And here is the best cordless-jigsaw tool:
No products found.