Hi. Thanks for checking out my article on welding helmets. Before I start talking about the best welding helmet reviews, let me give you a short definition and the different types of helmets, that are available in the market right now. No matter whether you are a beginner or expert, I have categorized all the 15 welding helmets according to everyone's needs, so that you can easily pick yours that is perfect for you.
" In simple words, a welding helmet is a head-gear which is used to protect your eyes and skin from sparks, heat, harmful rays like ultraviolet and infrared while performing various types of welding."
Well, you may already know how hazardous the welding task is. It can even make you blind if no helmet or low-quality helmets are used.
So, what does this low-quality means?
Well, there is more than one answer to this question but the important thing that you must look at is whether your welding helmets meet the National Safety Standards or not. ( All the 15 best welder helmets that are mentioned below meet this Safety Standard )
Let's talk about the types of welding helmets in short. You can get more details on each type in my buyer's guide.
Auto-darkening type
Passive welding helmet
Variable-shade lens type
Fixed-shade lens type
Battery-operated
Solar-powered
Both solar and battery-powered
Now, let's directly jump into the list of 15 best welding helmets for TIG / MIG, beginners as well as experts, along with a comparison table, and buyer's guide at last.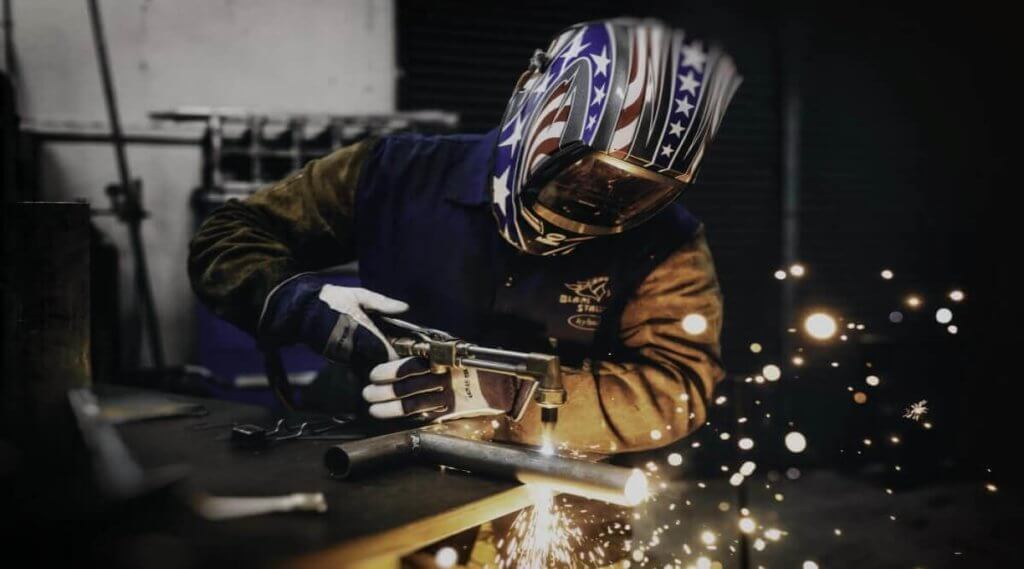 The Best Welding Helmets In 2023
No products found.
1.

Lincoln Electric 3350

– Best Auto-Darkening Welding Helmet
Lincoln Electric 3350 is the ideal option available in the market as the best auto-darkening welding helmet. You can enjoy crystal clear vision from its viewport (3.94×3.86). For the purpose of low amperage Tig welding, Viking stands as the best option with its sensors that are highly receptive. It stands in the list of the best welding helmet with the best reputation in the category. The 4C lens technology in Lincoln Electric 3350 offers true color, superior visibility with minimal strain on the eye. The optical clarity of 1/1/1/1 is offered by its extraordinarily large lenses making the helmet perfect for all sorts of welding and plasma cutting.
For more than 7 years, Lincoln Electric 3350 is in the market and is maintaining great all throughout these years. This helmet serves to be the finest choice available with its true color tech, large viewport, and sensor of great quality. Lincoln Electric 3350 stands as the best helmet offering value for money. The use of Nylon material in this helmet makes it the best choice with optimal comfort and great performance. Compared with the top 15 best welding helmets in this list, Lincoln Electric 3350 is the option that is least expensive ( if compared with quality ).
The model is a prudent choice for those who are looking for a perfect wear while doing both welding and plasma cutting.
PROS

CONS

1. Highly receptive sensors effective for low amperage Tig welding.
1. The dial for changing to the grinding mode is a bit inconvenient.
2. Features 4C lens technology for minimal strain on the eyes.
2. Repetitive swapping of the lens could chew up the lens gasket over a period of time.
3. The usage of nylon material enhances both comfort and performance.
4. Least expensive when compared in terms of quality and price of other models.
Features:
No products found.
You can also check our list of
15 best MIG welders
if you have selected your best welding helmet, otherwise, you can check other welder helmets below along with the buyer's guide.
2.

Antra AH6-260-0000

– Auto-Darkening Welding Helmet For Limited Budget
" If you are a beginner and searching for budget-friendly but high-quality welding helmet then you can blindly trust on this model."
This welding helmet from Classic Series Antra AH6- 260-0000 is prepared with an auto-darkening lens and four arc sensors controlled by a smart chip. The arc from applications like MIG, TIG, Plasma, and Arc welding is responded quickly by this helmet. It serves to be a versatile option for an assortment of applications like cutting, grinding, and welding with its weight under just a pound. This is an eco-friendly and ecological product with disposable lithium batteries and solar cell design. Compare to the mask, it serves as an ideal upgrade with fixed shade glass for the best quality and that too at the fractional cost compared to the other elaborated helmets.
The auto-darkening lens is featured in this helmet with passive UV filer along with unending UV protection at level thirteen fixed shade range. It allows adjusting arc sensors' sensitivity and delaying time. Antra AH-260-0000 comes with a helpful hard hat adapter and is adaptable to a cheater lens. A tester and battery indicator is also there along with power off delay. Before the filter goes to sleep, it remains active in dark environments for 10 minutes. This helmet has the ability to run for longer time duration and is, therefore, best for novice welders training.
This model offers quality auto darkening lens along with arc sensors at pocket-friendly price.
PROS

CONS

1. Smart chip to control arc sensors.
1. The inner lens would fog-up while breathing.
2. Weigh less than a pound, curtails head and neck stress.
2. The battery check sometimes malfunction.
3. Eco-friendly product with solar cell design and disposable lithium batteries.
4. The filter remains active for 10 minutes before going to sleep in dark environments.
Features:
No products found.
3.

3M Speedglass 9100

– Fastest Lens Switching Welding Helmet
This helmet comes with an auto-darkening filter and side windows to offer professional-grade face and eye protection from the wreckage and harmful radiation such as infra-red radiation, visible light, spatter, ultra-violet radiation, and sparks. The vision field is increased by the side windows having shade 5 filters. Comfort is also delivered by this welding helmet while it offers premium quality protection. This helps in enhancing the overall productivity as well as the satisfaction of the worker on the job. In the list of best welding helmets, it stands as the perfect pick for professional welders.
3M Speedglass 9100 is a good investment paying off with greater satisfaction and service. It offers instant transition to the welder from light shade to dark while an optimal view is maintained for weld puddle and torch placement control. On the completion of the weld, the filter returns automatically to light shade 3 with approx. 40-250 milliseconds delay.
Its lens has three sensors for activating the auto-darkening filter on strike of an arc. In the time frame of approx. 0.1 milliseconds, the lens toggle to dark from light shade. Almost instant inspection is allowed with this for the weld pool along with the next weld preparation.
The model is a good choice for the welders who are looking for an instant transition from light to dark shade while welding.
PROS

CONS

1. The auto-darkening filters and side windows shield both face and eyes against sparks, infra-red and ultra-violet radiations.
1. It features smaller filter in comparison of other models accessible.
2. The SideWindows enhance the peripheral vision over 100%
3. There are 3 sensors on its lens to activate auto-darkening filter with a strike of an arc.
4. The lens can toggle from light to dark shade in approx. 0.1 milliseconds.
Features:
No products found.
4.

Jackson Safety W10 HSL

– Best Fixed Shade Lens Welding Helmet
This helmet stands compatible with performing in confined, small spaces on account of its narrow design. Professionals, inspectors, hobbyists, and students find Jackson Safety W10 HSL as the best welding helmet. It comes with an increased front that will offer protection from sparks, fumes, arc welding, slag, MIG welding, and TIG welding. The design of this helmet is planned in the way that its weight is not felt by the wearer on his shoulders. Another advantage is that comes with a large screening area and padded head strap.
A durable shield is there in Jackson Safety W10 HSL for offering optimal head protection. Polycarbonate material is used in making a shade of this helmet so that the user can enjoy additional comfort level. For professionals, hobbyists, beginners, and any sort of welder, this product serves to be the perfect pick. The great price of Jackson Safety W10 HSL also makes it the best welding helmets available in the market with fixed shade.
It comes with features like automatic off/on, sensors, etc. that enable faster work compared to the usual case. The auto-darkening feature is not available in Jackson Safety W10 HSL and therefore it is important to assure that one can make proper use of a welding helmet that is fixed shade.
The model is a perfect choice for those working in small, confined spaces.
PROS

CONS

1. Offers padded head strap and large screening area.
1. Auto-darkening feature is not going to be available in this model.
2. Light weight design is good for head, neck and shoulder.
2. The lens is a bit dark in comparison to other models.
3. The helmet shade is made from polycarbonate material.
4. Fully automated on/off button.
Features:
No products found.
5.

Jackson Safety 46131

– Best Variable Shade Lens Welding Helmet
The factor that stands on top priority is to offer the employees with just what they are looking for in order to perform the job efficiently, well, and safely. Jackson Safety 46131 is the helmet that matches perfectly with this condition. It comes with WH 40 Series high-performance auto dark filters for enabling welders so that they can adapt to the varied working environments. The ability to control lens shade is there for the welders and they are offered with sensitivity adjustments from ambient sources of lighting.
An extensive viewing area is also featured in this helmet. Delay and sensitivity settings are provided by the auto-darkening feature of Jackson Safety. For novice welders as well as hobbyists and professionals, this auto-darkening electric helmet serves as the perfect option. It is cost-effective, provides digital controls that are user friendly, and comes with several arc sensors.
The welding lens of Jackson Safety 46131 features ADF with multi-function and digital controls for almost any sort of welding job. This choice is practical as well as fully functional and serves to be cost-effective as well in comparison with the other options in the list of the best welding helmet.
This model comes with a wide viewing area to operate in a range of working environments.
PROS

CONS

1. Easy to control lens shade.
1. The material of the hood is not of the highest standards.
2. Comes with sensitivity adjustments against different sources of lighting.
2. The jaw-line is a bit short for someone with more than an average-sized head.
3. User friendly digital controls with highly conducive arc sensors.
4. Variable shades right from 9 to 13 to adjust the lens with respect to the working environment.
Features:
No products found.
6.

Dekopro XG30

– Best Solar & Battery Powered Welder Helmet
This is another economical option in the list of best welding helmets. Several features are there in Dekopro XG30 making it an optimal choice for both novice welders as well as professionals. For the purpose of meeting with varied demands, it comes with a manual adjustment features. The delay and sensitivity settings equipped in this helmet make it the perfect option for varied task duration and different environments. Users can enjoy enhanced color recognition and visibility and within 0.1s-1.0s, it switches to bright from dark state DIN 4 light level of the filter.
Finest eye protection is offered by its auto-darkening filters that switches to dark from light in just 1/25000 sec. In case of electric failure is there, the welder stays protected against IR and UV radiation as per Shade 16 1/1/1/2 rating. This makes Dekopro XG30 stand as the smart safety choice. The manual adjustment feature is also there for meeting the varied demands. Dekopro XG30 is prepared with delay and sensitivity settings and offers a comfortable and clean view to the user. The clear viewing area enables luminous transmittance variation, light diffusion, and angular dependence so that the welder is able to clearly see at varied angles.
Dekopro XG30 comes with manual adjustment features, making it a good choice for both beginners and pros.
PROS

CONS

1. The sensitivity and delay settings make it an ideal choice for a variety of environments and task durations.
1. As the inner LCD glass is more prone to scratch, you are required to handle it with care.
2. Auto-darkening filters offer best eye protection.
2. Excessive battery drainage takes place as there is no kill switch to disconnect the same.
3. Shade 16 1/1/1/2 rating protects the welder against UV and IR radiation, in case of an electric failure.
4. Luminous transmittance variation feature helps in getting a clear view from a range of angles.
Features:
No products found.
7.

Antra AH7-860-0000

– Best Solar Powered Welder Helmet
The Antra Series AH7-860-000 welding helmet features an auto lens of enormous viewing size that offers extremely fast response to electric arc coming from applications such as MIG, TIG, Plasma, and MMA. Along with the premium performance, the welder is also able to enjoy a comfortable and clear view with the help of a super large window. Antra AH7-860-0000 series helmet is versatile enough to be useful for cutting, grinding, and welding applications. Compared to the glass fixed shade welding helmet and goggles or the auto lens old small size helmet, Antra AH7-860-0000 serves to be the perfect upgrade that is cost-effective as well.
For the purpose of adjusting delay setting and sensitivity, it features fully automatic ON/OFF power. A welder is also able to enjoy IR/UV protection with this best welding helmet. Protection from harmful beaming meets and spatters is ensured with full coverage to neck and face. Stress on the neck is reduced in the welding process on account of the overall lightweight. This helmet also features the setting of inside shade that helps avoid the accidental changes and also serves as the perfect option that is useful in tight spaces as well. It is responsive to the welding arc while is less sensitive to workshop lights, sunlight, etc.
Recommended to those who wish to have a clear view of cutting, welding and grinding applications through its super large windows.
PROS

CONS

1. Fully automatic on/off button to adjust sensitivity and delay settings.
1. You ought to keep the headband tight, otherwise it could slide down.
2. Full coverage to neck and face to ensure protection against spatters and sparks.
3. Light total weight to reduce neck and shoulder stress.
4. The inside shade is less sensitive to sun light making it a good choice for field work.
Features:
No products found.
8.

TANOX ADF-206S Solar Powered

| Best Welder Helmet Under $60
Solar cells, four arc sensors, and long battery life are featured in this economic, quality welding helmet. The weight of this helmet is just about a pound and a half with an installed padded head adapter. Sensitivity and delay settings are there in it with adjustable second infinity knob from dark to light in 0.1-1 second. It also features ADF self-check and 0000 plus grinding, alarm of low volume, and low amperage TIG of over 5A. The solar cells featured in TANOX ADF are of high efficiency and comes with replaceable lithium-battery having a lifespan of 2 years.
All the technical and safety standards are met by the TANOX ADF auto darkening solar power helmet for both complex as well as simple welding jobs. The reaction time of TANOX ADF is 1/25000 fraction of the second on account of its arc sensors that earns the rating of 1/1/1/2 optical class. In case electrical failure is there, the welder gets protection from both IR and UV radiation. The ability to observe an assortment of varied angles is also there with the welder. This helmet comes with free paid of fire retardant gloves offering greater value. These are sufficiently comfortable and pliable to wear for the extended time duration.
It is an ideal choice for those who are looking for a light weight helmet without compromising quality.
PROS

CONS

1. Adjustable second infinity knob helps in adjusting from dark to light with 0.1 to 1 second.
1. As the hood bolt is made up of plastic, you ought to be extra careful with its handling.
2. Comes along with replaceable lithium battery with the lifespan of 2 years.
2. Not much helpful if you are required to see 180 degree angle at the same time while working.
3. UV and IR radiation protection for the welder in case of electric failure.
4. The model comes along with free pair of fire retardant gloves offering the value-added benefit.
Features:
No products found.
9.

Dekopro DP-33

| Skull Design Solar Welder Helmet
Dekopro DP-33 helmet features the filter of auto-darkening that switches to dark from light in 1/25000 second in electric failure case. As per the shade 16.1/2/1/2 rating, it offers protection to the welder from IR and UV radiation and is therefore the best welding helmet in terms of safety. The varied demands are met with manual adjustment since this helmet is prepared with delay and sensitivity settings so as to become adaptable to varied task durations and environments.
Users can also enjoy enhanced color recognition and visibility with Dekopro DP-33 helmet. DIN4 is the filter's light level and within 0.1-1.0s, it shifts to bright state from dark. The viewing area is equipped with a 3.62" X 1.65" clear standard visor. A welder is able to look at different angles with luminous transmittance variation, light diffusion, and angular dependence. This helmet also allows working for an extended time duration since it is light in weight and is balanced with fatigue-free and adjustable comfortable headgear.
Dekopro DP-33 is a practical, intelligent, and cost-effective helmet that offers lens shade control, adjustments to sensitivity from bright lighting source, and solar panel tech-powered battery for extended life. This helmet is recommended for construction, automotive, mining, operation, and repair, transportation, gas, and oil, etc.
Dekopro DP-33 is considered as the perfect headgear to undergo automotive, construction, mining, gas and oil drilling operations.
PROS

CONS

1. In case of electric failure, can switch from light to dark in just 1/25000 of a second.
1. Not highly effective against direct sunlight onto the screen.
2. Adjustable, light in weight headgear helping you to constantly work for an extended period of time.
2. The padding and knob of the headband is a bit inferior in comparison to other models.
3. Quick adjustment to sensitive light from a bright source.
4. Solar panel based tech powered battery to deliver an extended life to the model.
Features:
No products found.
10.

Miller 281000 Digital Elite

| Best Clear-Light Lens Welding Helmet
One of the all-around, great, lightweight MIG, TIG, and the grinding helmet is Miller 281000 Digital Elite. The only shortcoming is its headgear design that is poor and fragile. 1/1/1/2 optical clarity is offered by Miller 281000 Digital Elite helmet. Lens named clear light is featured in this helmet that helps get rid of the green tint that is present in most of the lenses. This is the reason why the welder is able to enjoy the usually hidden natural light and clear visibility in Miller 281000 Digital Elite helmet.
Four modes termed as cut mode, weld mode, X-mode, and grind mode are available in this helmet with different shade variations in each. The interference of direct sunlight with your vision at the time of welding is prevented by its X-mode that serves as a unique and brilliant feature. The standards of remaining helmets in this list are not matched by this helmet. It offers comfort most of the time but in some cases, it struggles for keeping upright hood when it is not in use. This serves to be the major problem in welds when the helmet is desired to be in up position.
However, it is excellent when the hood is down and has a great placement of the sensor.
Four modes (weld mode, cut mode, grind mode and X-mode) are available with separate shade variations in each.
PROS

CONS

1. Prevents green tint to help the welder to get a better visibility under natural light.
1. Required to handle with care as the design of the headgear is a bit fragile.
2. Headgear features extensive adjustable settings to easily work while standing as well as sitting.
2. The design causes a major problem while keeping the helmet in an upright hood position, especially when not in use.
3. Digital controls to easily adjust delay, shade and sensitivity.
4. Auto ON and OFF power control to trigger the lens.
Features:
No products found.
11.

Antra AH7-860-001X

| Best Versatile Welder Helmet
This is yet another option available in the list of best welding helmet featuring an auto lens of enormous size that offers enormously fast response to electric arc from applications such as MIG, TIG, Plasma, or MMA. Along with the premium performance, it also provides comfort and a clear view to the welder with the help of a super large window. The versatility of Antra AH7-860-001X makes it best for several tasks such as cutting, grinding, and welding applications.
It comes with 4 redundant premium arc sensors controlling and detecting units that are highly responsive. It offers precise auto shading and super quick switching time that help avoid eye stress and also minimize the harmful beaming bypass. The popular processes in the industry of metal fabrication such as abrasive wheel grinding/cutting, plasma cutting, AC TIG, DC TIG, MAG/MIG, stick welding/MMA, etc. are perfectly handled by this supreme personal protection equipment.
The model safeguards the welder against spatters and harmful radiant through protective coverage for the entire coverage and the neck.
PROS

CONS

1. Large window for a comfortable and clear view.
1. The plastic is a bit fragile and required to be handle with care.
2. Features 4 premium arc sensors for effective controlling and execution.
2. The numbering available on the shade dial could have been made more conspicuous.
3. Features quick switching time and accurate auto shading to minimize the bypass of harmful beams and curtail stress to the eyes.
4. Offers interference suppression technology to reduce the chances of false triggering.
Features:
No products found.
12.

Instapark GX990T

– Best Budget Welding Helmet For Professional
Instapark GX990T is a fundamental welding helmet powered by a CR2450 replaceable battery and built-in solar cells. 4 arc sensors are featured in the Instapark GX990T series for triggering ADF to automatically change to work mode within half a second after an arc struck. The need for up and down flipping of the welding helmet between torch placements is eliminated by ADF. This is the reason why Instapark GX990T stands to be the best budget welding helmet for professional use that boosts productivity as well.
It has an ergonomic design and is made with composite lightweight materials that are patent protected. The system of ratcheting headband and the completely padded interior offers custom fit and comfort to the welder. The viewing area of the Instapark GX990T filter is 3.94 X 3.86 in. that is biggest in this list of the best welding helmet. The user is able to get a complete welding area's view with good IR/UV protection and excellent optical clarity.
The model comes with an ergonomic design to custom fit and padded interior brings more comfort to the wearer.
PROS

CONS

1. The model is powered by quality CR2450 replaceable battery.
1. The auto-darkening feature of the helmet is not as good as other models.
2. No flipping of helmet between the torch placements, as common in other models.
2. Battery error is common to certain extent.
3. Wide viewing area of 3.94" X 3.86".
4. Made of lightweight yet durable material featuring ratcheting headband.
Features:
No products found.
13.

Miller Electric Classic MP-10

| Best Passive Welding Helmet
Miller Electric Classic MP-10 is counted as the best welding helmet that has several features of screen adjusting. Auto-darkening features makes the task easy for welder since it offers automatic adjustment to helmet light. Users are never disappointed by this helmet and can enjoy better results always. The durable technology also makes Miller Electric Classic MP-10 the excellent option available in the list of best welding helmets.
Even in the most complex welding operations, a passive welding helmet stands to be strong enough. Miller Electric is a famous brand for several powerful welding accessories and welding machines. The use of Nylon material makes this passive welding helmet comfortable and stronger for offering ultimate welding convenience. It comes with an 8-10 lens shade and a viewing area of 15-7/0 sq. in with ratchet headgear to offer 'ultimate comfort and convenience to the user. Some of the best features of light sensitivity are there in Miller Electric Classic MP-10.
This model is made up of nylon material to make it stronger yet comfortable while wearing.
PROS

CONS

1. One of the favourite brands for complex welding operations.
1. The plastic is a bit thin, hence the user is required to handle it with care.
2. Come up with a decent viewing area of 15-7/10 sq inches.
2. Do not come with extra replacement lenses.
3. Useful to weld in all weather conditions and close areas.
4. Reliable auto darkening lens.
Features:
No products found.
14.

Esab SENTINEL A50

– Best As Well As Stylish
If you are in search of the best welding helmet that is stylish as well then Esab SENTINEL A50 is the perfect choice for you. This helmet features a liquid crystal touch screen display and superior comfort so that its functioning is controlled easily by the user. It also has a touch screen color control panel halving 8 different memory settings along with the Grind button that is activated externally.
Grind mode is available Esab SENTINEL A50 right side. A replaceable battery plus solar-powered cell shares the power supply. In the case of a low battery, the alert indicators illuminate. Esab SENTINEL A50 is the best welding helmet for professional use since the best welders deserve the best equipment. This helmet offers great comfort and ergonomics along with intuitive control making it perfect for any sort of welding and plasma cutting with a wide range of available options and crystal clear visibility.
If you are looking for style and substance along with display on liquid crystal touch screen, then this model is rightly meant for you.
PROS

CONS

1. Touch screen colour control panel equally dividing 8 memory settings.
1. The glare is pretty common due to the curve of the lens.
2. Externally activated Grind button.
2. The touch screen does not work well, when you are wearing gloves.
3. Alert indicators that illuminate in case of low battery.
4. Equally good for both welding and plasma cutting.
Features:
No products found.
15.

TGR 180 View

– Best Panoramic Welding Helmet
If you are in search of the best welding helmet for upgrading your existing one or for getting the first welding helmet then TGR Panoramic 180 View serves as the perfect option for you. In front, this helmet has a normal darkening lens and two dark side windows are also there. So the eyes of the welder stay protected even if he has to work in an area where turning the whole helmet is difficult.
Control knobs are easy to use and it comes with several other features as well making it a perfect choice as the best welding helmet. Darkening between shade 4 to shade 12 is possible with this helmet. The welder can turn it down at the time of plasma cutting and can increase it to 12 for high amperage welding. It will then get sufficiently darken where it is exactly required. The delay and sensitivity knob help assure that it remains dark for the desired duration.
The model is known for serving 180 degree view while operating on a surface.
PROS

CONS

1. Frontal darkening lens with side windows (dark) on both the sides.
1. The auto-darkening electronics is a bit blinky, hence any sunlight or glare would sets it off.
2. Easy to apply control knobs.
2. The external hood surface is sensitive to scratch, hence require extra care.
3. Multiple shades that can be turned down while doing plasma cutting and increase up to shade 12 at the time of high amperage welding.
4. Could be kept dark for the desired duration with the help of reliable sensitivity and delay knob.
Features:
No products found.
Welding Helmet Buyer's Guide 2023
If you have decided to purchase the first welding helmet or want to upgrade the existing one then it is important to consider certain factors before making the final purchase decision. Wide range of options are available in market and therefore selecting the best welding helmet from these need some basic understanding as how the differences of these helmets can affect overall desired performance. A demand of every user is different and therefore purchase is done on the basis of these unique desires. For this reason, I'm here with welding helmet buyer's guide to help you find the best welding helmet based on your specific requirements.
***Please click on all the tabs one by one to read the buying guide
LENS VIEWSHADINGAUTO DARKENING COMFORTFEATURES
Why Should We Check Lens Measurement ?
Every welder must essentially take care of this aspect since best vision is desired throughout their hood for optimal performance. When you are considering the different factors relevant to welding helmet lens then the important ones are lens height, lens width and the clarity in vision that they offer to the user. The measurement of helmet lenses generally takes place in format like 3.8 X 2.3 in. It means that width of the lens around the face of user is 3.8 and it is 2.3 in. tall.

Wider lens allow easy left and right vision since the welder need not to move his head for looking in either direction. Also, taller lens allow the welder to comfortably look down and up and that too without any head movement. The vision area is important but clarity stands with even more priority. In most of the lenses, you will get the desired UV protection and proper shield from weld for guarding eyes. However, the weld display is not clear in these lenses that prevent the user from giving optimal performance. It is therefore important to consider these aspects before making final purchase decision for welding helmet since the performance and comfort at the time of welding operation impacts the overall experience.
What Are Shading Types / Features?
All types of options in shading are available in the welding helmets. In some of the helmets, there is fixed shading without any variance. The other options provide ability to change in diverse range so that the varied conditions are met based on user requirements.
Almost transparent feature of grinding mode is present in some of the helmets with just a light shade. Cutting shades are available in the other options that stand slightly darker and it is difficult to weld with them. The available options in welding shades vary from shade 5 to shade 13. With the increase in number, it gets darker. Brighter the arc, darker the desired lens that can help the welder for optimal performance.
Helmet with as low range as shade 5 is required in the case of low amps TIG welding that has low amperage shading enabled. The range only for higher amperage that is between 9-13 is available in some helmets that do not provide proper shade from welding of low amperage.
What Is Auto Darkening Feature & What Are Its Uses?
The welding helmets that feature lens having automatic adjustment ability are termed as auto darkening. Adjustment is made in these on the basis of available light. The performance of these models is also great for varied sites of job since the task of altering the shade and lens for you is taken care of by your helmet itself. Auto darkening delay is the time taken by lens for dark shading after lit of arc. It ranges from 0.35-0.1 seconds and the most desirable of this range is the delay time that is shortest. The eyes of welder will get more protection from faster response of lens shading.
Importance Of Comfort ?
Do not neglect this aspect as comfort also serves crucial in the selection of welding helmet. This is true especially in the case when the working time with welding is not fixed and can extend to any length of duration. It is critical to check the feeling that user get on wearing the helmet. For different helmets, it is different and depends on the design of headgear, weight of helmet and its balance. The grip of helmet should be comfortable and must have mechanism of locking as well so that no excess pressure is there and it offer natural fit.
How Does Some Additional Features Enhance Our Experience?
Welding helmets have wide ranging features that must be considered before purchasing it. However, you will find most of these in the expensive models only. They uniquely enhance the overall experience of welding. For instance, anti-fog feature is there in some helmets for offering better visuals even in the case when the user sweats. Multiple sensors of auto darkening, touchscreens, ventilation systems, windows, memory devices etc. are there in some other options of welding helmets.
Some welding helmets also come with the option in which you can make use of varied attachments such as hearing protection, respirators and features of hard hat that could be removed or fitted as per needs of user. Some of these features serve extremely handy and can help enhance the welding experience to great extent so that you can enjoy the process. All it depends is on welding type and preferences of the user. You can filter the available options on the basis of your requirement of welding helmets.
Frequently Asked Questions On Welding Helmet:
Q1. What is the best welding helmet for TIG & MIG?

Tungsten Inert Gas (TIG) welding is used where the electrode is not consumable. The supplied heat with the help of the electrode melts the base thus creating a weld pool. It is a slow process.

Metal Inert Gas (MIG) welding is usually utilized for specific materials such as steel and aluminum. It is a fast process and provides good quality welds. Here, the electrode is consumable.

In short, the selection depends on the speed required, process, criticality and availability of welding tools.

Q2. What is the minimum shade value when arc welding?

With the reference of OSHA's Fact Sheet, MIG welding or flux-cored welding (FCAW) utilizing flows of 60 to 500 amps requires a base lens shade value level of a DIN number 10.

You may not realize that most welding head protectors with auto-darkening filters (ADF) give full, insurance from eye-damaging rays such as ultraviolet (UV) and infrared (IR) radiation consistently, even while in the detached light state

Q3. What shade is best for MIG welding?

When we talk about the welding lenses, one major and important function is to protect your eyes from getting burnt.
To prevent flash burns on your eyes, it is prescribed that you use between a shade 10 to a shade 13 welding focal point. A higher shade number will let less light through the lens whereas a lower number will let more light through the lens.

Q4. Are auto-darkening helmets safe?

In general, there are several factors that need to be focused when you utilize an arc segment to weld things.
At the point when utilization of auto-darkening welding helmets is done properly and an appropriate manner then they do not harm eyes. Ensure the batteries in the cap are completely energized and the helmets fit well on your face. Additionally, alter the settings of the protective gear according to the welding work and your comfort level.
Q5. How long do welding helmets last?

Auto-darkening helmets can be fuelled in various manner. Some are controlled with an inside non-replaceable lithium battery and a solar-based assist while others are fuelled with a replaceable lithium battery and solar-based assist.
The life expectancy of the non-replaceable battery is roughly 7 years, its detriment is that once the battery wears off, the lens does not work.

Q6. How dark should my welding helmet be?

The shade of welding helmets typically relies on the type of welding and material on which you are going to perform. So that is quite difficult to explain the shade of the welding helmet on a general basis.
If you are going to perform on steel, you should use a shade number 10 for welding with less amperage and thinner metals. This will provide good quality weld and also protect your eyes from harmful rays.
Q7. What do welding shade numbers mean?

The darkness of the glass used in the equipment is indicated with the help of a welding shade number. The welding shade number ranges from 8-14, cutting from 5-8, and for pounding it is 3.
As higher the number, darker the shade will be. Different tasks and procedures require a specific welding shade number and that also depends on the material on which you are going to perform the weld.

Q8. What is a good cheap welding helmet?

I would like to recommend Miller 251292 for the good cheap welding helmet. It is very comfortable and lightweight. In case you are anticipating accomplishing welding work for quite a while, this is a solid match for you. The lens of the welding helmet is adjustable and if you require another, later on, you can get one effectively as they're promptly accessible.
This head protector is solid, with a customizable shade and fit. It just requires two AA batteries to get it going appropriately.
Q9. Can you weld with shade 5 glasses?

Yes, we can weld with shade 5 glasses but the only problem with these glasses is that these are only relevant for light operations such as cutting and torch work. This shade does not provide enough protection from bright arcs which is the great concern for MIG Welding. So, make sure that you use dark pairs of shades.