Today, I am going to write about the safety tips for using miter saw. Miter saw is the most useful tool in the entire array of power tools. It is a versatile cutting machine used where tight corners, precise angles and fine finishing types of works are performed. If you are serious about woodworking you will become very familiar with miter saw and what a valuable asset they can be for your shop or on the job.
Today, we are going to take a look at Miter saws from the most important angle, the angle of safety. From outward appearances, a typical miter saw may look harmless but looks can be deceive with most powerful motors and its spinning blade that can cut through the toughest lumber, trim aluminum or other non-ferrous metal.
Improper use of Miter saws can cause serious injury with the blade tip spinning at 145 miles per hour. It takes only a split second to change the course of your life for forever!
Fortunately, accidents from miter saw can be avoided if you are careful.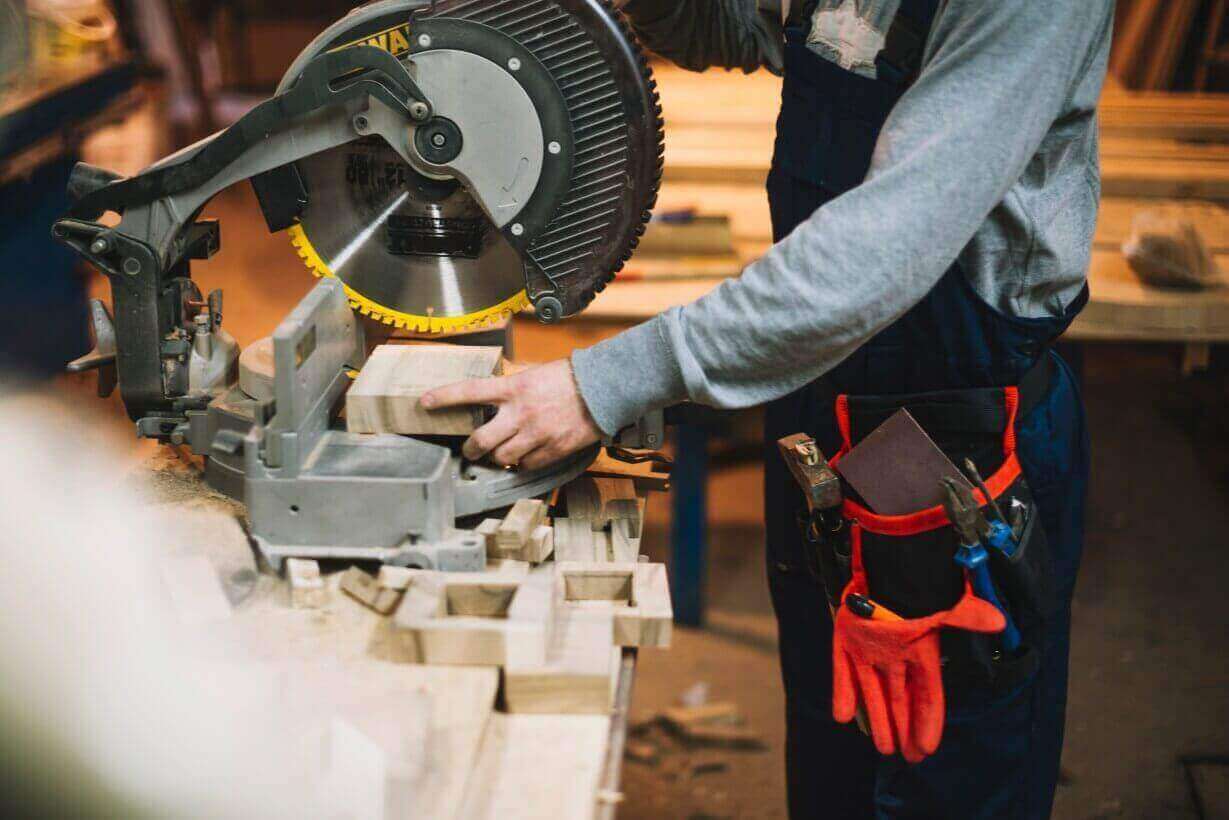 Following are the 34 safety precautions that one should take while using a Miter saw:
1. Make sure that you are not wearing any jewellery, loose clothes or any such dangling objects while working with the miter saw.
2. While using this tool you must protect your eyes and ears because the spark can damage your eyes and its high pitch sound can make you deaf.
3. Its blade is too sharp, so just unplug or lockout the power of the miter saw while repairing it or adjusting its blade and guards.
4. Make sure that all its guards are in proper place and are operating. If you find its guard to be slow to turn it from its normal position or it just hangs up then immediately adjust and repair it.
5. Keep your fingers and hands away from the blade at a safe distance of 6 inch.
6. Many blade sizes are available in the market for miter saw. Choosing the right blade will keep you away from the accidents. So, always use the recommended blade size such as 10 inch. Miter saw or 12 inch. Miter saw.
7. Cleaning its lower guard will help in improving visibility and also the movement.
8. Keep a regular check on the blade and tighten it along with the blade attachment mechanism.
9. Hold and clamp all the materials safely against the fence while cutting as this will make sure that you don't lose control and put your hands in the path of the blade.
10. Blade and its washers and also fasteners must be positioned correctly.
11. Miter saws operations must be performed freehand.
12. Cutting small pieces may be harmful.
13. Contact with coasting blade may cause harm. So, do not reach into the area of cutting until the blade stops fully.
14. If you are cutting a wood having long length, it should be at the same height as the table saw blade.
15. If you are using a sliding miter saw, then cut with the blade that is closest to you then plunge it down and then push the saw blade forward on the slides while you cut it.
16. Using a combination blade or crosscut is always a safe option.
17. Blade rotation in the correct direction is always important.
18. Cut the one piece at a time.
19. Take some time so that its motor reach full speed before cutting.
20. Always keep its blade tight.
21. Follow the steps that are given by professionals before lumbering and changing its accessories.
22. Keep your surrounding area of working clean.
23. Always check that the switch is in off position before you plug in the device.
24. Unplug the tool if you are not using it.
25. Its motor air area should be thoroughly clean and dust-free.
26. Don't use accessories that are not designed for your saw and the type of job you are doing.
27. Operating the saw when it is on the ground may cause accidents.
28. Make sure that you don't cut the material having splits, loose knots, foreign objects and defects into it. Also don't cut the solid timber.
29. Always keep a proper balance during your whole work.
30. Don't apply force on the blade as it will function properly the way it is designed.
31. Don't use this tool on any wet locations.
32. Make sure of not operating this tool in an explosive atmosphere or near any flammable liquids. Generally, sparks ignite the fumes.
33. Many people don't know how to put the saw back after using it. After you are done with the cut release the trigger switch so that blade comes to a complete stop. After this, raise the blade from the wooden piece. Generally, the moving blade stays in the cutting area of the wood piece after the work which can result in an accident.
34. Make sure that you have removed the wrenches and adjusting keys.
If you follow the basic safety procedures outlined in this article, you can achieve maximum performance from your miter saw and reduce the possibility of terrible accidents with lifelong consequences. Safety is one of the most important things that one should be aware of while working in a woodworking shop that can prevent injury. Although, Miter saw comes in large varieties and brands like DeWalt 12 inch. Miter saw or 10 inches. Miter saw so it is important to make the right decision for you. One more option is available for you that is you can buy a corded miter saw also you can go cordless. It all depends on you. Always choose the best miter saws available. Considering safety will assure success and satisfaction in all of your jobs and projects.
After reading these safety tips for using a miter saw, you can also check out our review article on the top 15 miter saw.