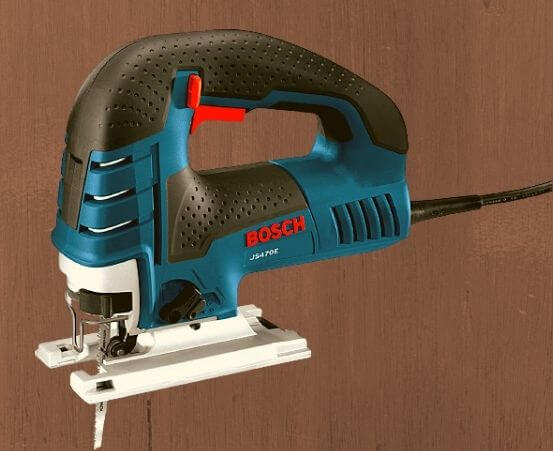 Cutting wood is an art and the device chosen by the woodworker ought to be equivalent to his caliber and skill. In the field of carpentry and cabinetry, the jigsaw is considered to be a formidable tool. The most common application of this tool is to precisely cut the curves. The tool is widely regarded as the modern upgraded version of both scroll and band saw, because of the fact that it is pretty handy and does have the characteristics of both kinds of saws.
The corded jigsaw brand that we are going to review here has taken the woodworking industry by storm. It has swiftly made its strong demand known among the finish carpenters as well as bath and kitchen installers. This corded jigsaw model is backed by the goodwill of a company that is termed as the pioneer in the field of industrial and utility tools. Yes, you have guessed it right! This review session would revolve around dissecting the Bosch JS470E Corded Jigsaw tool.

Who Should Buy Bosch JS470E Jigsaw?
Bosch JS470E is a professional grade jigsaw that can be used not only by contractors but also by homeowners. Bosch JS470E is the favorite & most trusted jigsaw by Finish carpenters & Kitchen installers
The tool is known to achieve precise curve cutting with the help of speed controlling dial and accelerator trigger to control the operational speed. The professional kit combo includes one blade, one anti-splinter insert ( JA1013 version ), one plastic overshoe, one bevel wrench, and one carrying case.
Product Description Table of Bosch JS470E
Table could not be displayed.
Diagram of Bosch JS470E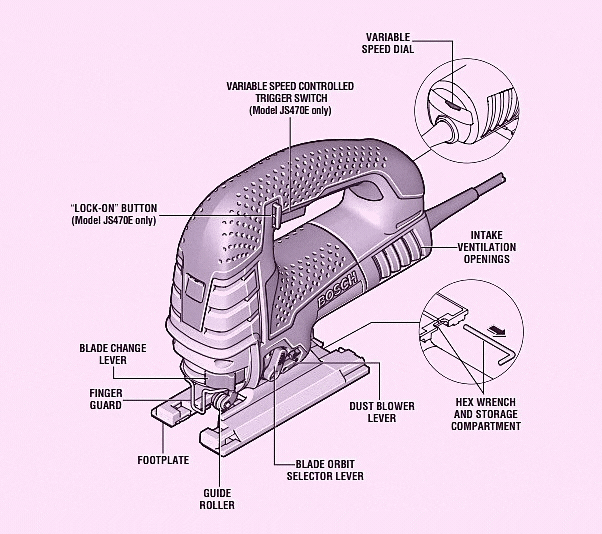 The Features that Make it An Ideal Corded Jigsaw for Professionals:
Features of Bosch JS470E
Now, let us throw some light on the hottest features offered by Bosch in this device that has made it a common name among the professional woodworkers. However, being a professional myself, I am only going to focus on those features that I have personally come across and not the ones claimed by the manufacturers.
So, let's get on with it –
Perfect Choice for Curve Cutting
I can easily manage a range of speed controls while operating it on the curves of the wood to deliver a smooth and elegant shape. I am not sure if the motor is consistently delivering the current of 7.0 Amp, but the motor offers seamless running irrespective of how many times you are switching between the speed controls.
Strong Insulated Gearbox
The gearbox is made up of aluminum with robust protection and an insulated cover to prevent the cases of short circuit. As the power source is corded electric, it is much of a help. The footplate is also large in size and made with die-cast aluminum.
Plunging Design
We appreciate the engineering skills of Bosch and this is one of the prime reasons. The JS470E Corded Jigsaw comes up with a plunging design ideally suited for professionals holding it for long working hours. The design is easy to handle and generates a low amount of vibration with fewer chances of fatigue to the fingers, palm, arm, and shoulder. The low amount of vibration would also ensure better accuracy at work.
Ambidextrous Button
It can easily be handled and manoeuvred by both left and right handers. There is an ambidextrous lock-on button to ensure a comfortable usage for steady long cuts with both the hands.
Smooth Yet Powerful Cutting
Most of my work is associated with thick hardwoods such as mahogany and maple. Many of these pieces are easily 1.5-2" thick and with my old blade of Black and Decker it would take nearly 20-30 secs for an inch to successfully cut through a 2" thick maple wood. The blade of JS470E Corded Jigsaw from Bosch is powerful enough to easily glide through the same size in just 2-3 secs per inch. It certainly saves a hell of a time and effort!
So, these are some of the common features that you would frequently come across when you provide an order after reading this review article. These features are essential for the professionals to understand before taking the tool and gearbox to both workshop and the field.

Now, let us glance over the common pros and cons that would help you make the right decision an inch closer.
PROS & CONS of Bosch JS470E
PROS
✓ The jigsaw is ideally suited for T-shank blades and the user can enjoy a superior grip with the help of a quality multidirectional blade clamp.
✓ The blade-change system is pretty easy than any previous model and you can do it easily without involving any tools. There is a blade insertion and blade-ejection lever that works fast and you are not required to physically handle or touch hot blades on the field at the time of operation.
✓ The cut-line could be easily visible to the operator due to a dust blower attached to the system. Just blow it occasionally to remove the obscuring sawdust and the cut-line would appear crystal clear in no time.
CONS
✗ The corded jigsaw model does not accept U-shank type blades. It is one of the key setbacks, as I personally tried it and it only works with T-shank type blades.
✗ Besides, at the time when the footplate and the splinter attachment is on, it is a bit difficult to see where your line actually is.
I hope Bosch would look into the prevailing problems and try to rectify them in the upgraded versions to come. Apart from that, I am pretty satisfied with the usage of this product.

The product is fairly priced in terms of the brand name and the features that it offers. If you are interested in seeking an alternative to this model or brand, then I would suggest, to look for its lower model Bosch JS365 Jigsaw. I found it quite identical to the discussed model in terms of features.
Here's the main difference between Bosch JS365 & Bosch JS470E:
Bosch JS365 is cheaper than Bosch JS470E. So, it is a good option for you if your budget is low (but you will have to compromise one thing, read the next point)
The cutting capacity of JS365 is low in comparison to JS470E. It can cut only upto 3.5 inches in a softwood while Bosch JS470E can cut up to 5.875 inches. So, if you are OK with this then you can go for the lower model & save money because other features are almost similar.
Weight of Bosch JS365 model jigsaw is comparatively less ( 5.3 pounds ) than Bosch JS470E ( 5.6 pounds )
The cord length is comparatively short, i.e. 8 feet while Bosch JS470E has a 10 feet cord.
No products found.
Conclusion
CONCLUSION:
It has been 4 months that I have started using Bosch JS470E Corded Jigsaw and will admit the fact that the tool has helped me a lot; especially while working on custom railings and kitchen cabinets. If you wish to work smartly and efficiently in the field without compromising with precision and safety, then despite a couple of demerit points, I would recommend you all that the accessible features are worth ordering.
So, give it a shot!
No products found.
Frequently Asked Questions On Bosch JS470E Jigsaw

Q1. Does Bosch JS470E come with Soft Bag or Hard plastic case?


Bosch JS470E jigsaw comes with a hard plastic carrying case & also includes Bevel Wrench, Anti-Splinter Insert, one T-shank blade & a Plastic Overshoe.


Q2. Is it possible to cut a meat bone with Bosch JS470E?


To be honest, neither Bosch nor I have tested it on meat bones, so, it is not recommended. But, if you want to do an experiment then you should buy a different T-shank blade ( not the included one )


Q3. Can we make curve cuts on a metal sheet with Bosch JS470E?


Yes, you can. This jigsaw is powerful enough to cut 0.875 inches in metal & 0.375 inches in mild steel. So, I will recommend you to buy a pair of blades with better TPI ( Teeth Per Inch ). Don't use the included blade on all the materials.

There is a famous 14-Blade-Set Bosch T14CPSC available online (For different materials). You can buy it from Amazon here:


No products found.

Q3. What should be the best TPI of a Jigsaw blade for cutting metal using Bosch JS470E?


For a thin & soft metal, I will recommend an 18 TPI jigsaw blade & a 24 TPI blade for hard & thick metals.


Q4. What should be the best TPI of a Jigsaw blade for plastic & wood cutting using Bosch JS470E?


A minimum 14 TPI jigsaw blade would be perfect for cutting plastic & for wood, it can range from 6-14 TPI depending on your needs.

I mean, if you just need a fast & rough cut then a 6 TPI jigsaw blade will do the job but if you want to make a quality finish cut (that requires slower cutting) then you must go for a 14 TPI blade.

If your requirement lies in between ( that is a perfect balance b/w finish & speed ) then a 10 TPI jigsaw blade will be good enough.


Q5. Can we cut a sinkhole in marble with Bosch JS470E?


Yes, you can cut a sinkhole in marble by using Bosch T130DG 30 Grit Diamond Jigsaw Blade.
Also, I will recommend you to set the O orbital setting before cutting any tiles/marbles.
Here, you can buy this 30 Grit Diamond blade:


No products found.

Q6. Is it possible to adjust the depth of a cut in Bosch JS470E?


No, it is not possible to adjust the depth of a cut by moving the footplate or blade. To do this, you will have to buy either a different blade or you can add a spacer at the bottom of the footplate.


Q7. Does Bosch JS470E jigsaw accepts U-shank blade?


No, Bosch JS470E doesn't accept the U-shank blade. It accepts only a T-shank blade.