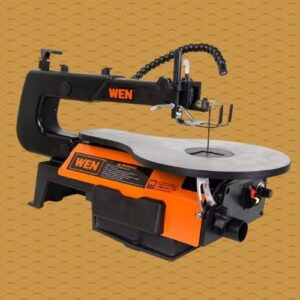 American companies are considered pioneers when it comes to the manufacturing of reliable power tools. Wen is one of these companies with a legacy spread across 7 decades for using their engineering prowess to fulfill their requirements of woodworkers and stoneworkers across the globe.
The company is known for manufacturing some of the best models of scroll saws to effectively manage intricate and artful cuts with utmost precision. Here, we are going to review one of the most popular two-direction scroll saws manufactured by WEN and help you reach the inference whether the purchase decision of this model is a fruitful move or not.

Our topic for discussion on this page is WEN 3921 16-Inch Two-Direction Scroll Saw, and I decided to choose it due to a couple of reasons. One is the fact that many of my readers were requesting a review on this WEN scroll saw model and it was long overdue, and second, I myself ordered my brand new WEN 3921 a few days back from Amazon and included it in my arsenal of tools at my intarsia workshop.

Who Should Buy WEN 3921 Scroll Saw?
Wen 3921 Scroll Saw is useful for those wood and stoneworkers who wish to accomplish complex cutting requirements at variable speeds but they have a low budget.
Don't look at this scroll saw with suspicious eyes after checking its price because there is no compromise in the quality. This scroll saw is successful in striking 9/16" strokes through hardwoods right up to the 2" thick mark.
Product Description of WEN 3921
Table could not be displayed.
Diagram of WEN 3921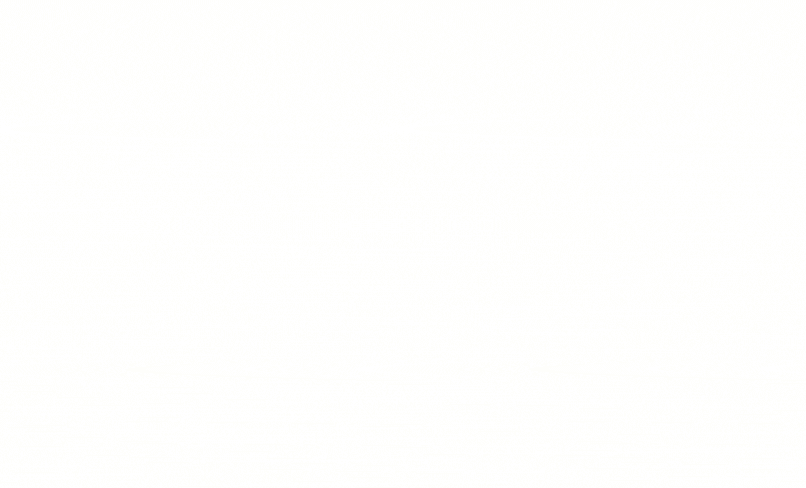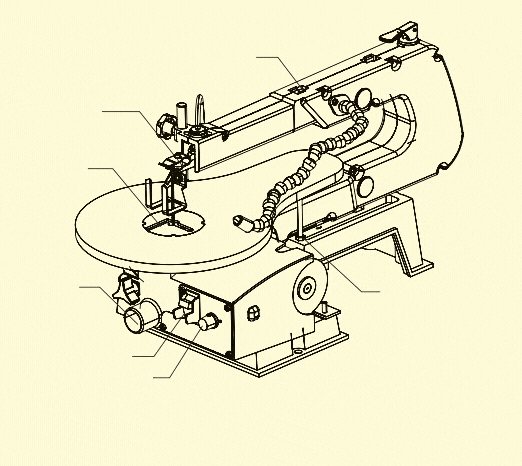 Here, we are going to closely scrutinize the features of this saw tool one by one and subsequently look at the pros and cons associated with the same. Thereafter, we are going to reach the conclusion whether pressing the order button to purchase WEN 3921 16" Two-Direction Scroll Saw would be a prudent move or not.
Let's check the Features that Attract the Interest of Every Professional
Features of WEN 3921
The following are some of the key features that make this 16" scroll saw from WEN one of the strongest contenders for your next order-
Tool-free setting of the blade
I personally found the blade change settings to be fast, effective, and less time-consuming. There is no requirement for tool intervention, as there is a thumbscrew blade adapter. It is helpful when the professional is working in a two-way direction and required to switch the blade to adjust the cutting of the surface.
Better Angle of Cutting with Less Vibration
WEN 3921 16" Two-Direction Scroll Saw comes with a cast iron base that is effective in curtailing the vibration. While drawing the two-way sawing of the wood and stone, I found a 16×10 inch table to be totally spacious and when it comes to angled cut then the table would bevel up to 45 degrees. Apart from the cutting material, you can even keep the additional blades and accessories on the table for easy pickup and utilization amid a tight production cycle.
Compatibility with Different Blades:
The blade holder in WEN 3921 is compatible with spiral blades, pinned as well as pinless blades. I personally used pinless blades on my mahogany wood intarsia workpiece and could easily change the direction of the cut with the help of different blade settings. In case you are required to set the pinned blades, all you are required to do is simply pop the attached pins out from the front holder and then simply turn the blade up to 90 degrees. The blade holder offers a tight grip and I never experienced the slipping of the blades anytime during the operations.
Warranty
The product comes with 2 years warranty which I personally find truly assuring as my business requires the commercial usage of the tool with the heavy-duty application. Any wear and tear in the near future can easily be backed with the provided service warranty.
Now, let us come to the prominent pros and cons associated with WEN 3921 and then see whether your purchase decision would get influenced by them or not.
PROS & CONS of WEN 3921
PROS
✓ All you are required to do is simply turn the knob and you can adjust the speed of the scroll saw anywhere between 550 to 1600 strokes / minute.
✓ While cutting, a clear line of vision is extremely necessary. That is the reason why, there is an adjustable air pump that can easily clear the saw dust at your workstation table. Also, there is a 1-1/2" dust port to collect the dust simultaneous to the sawing process.
✓ There is a hold-down foot clamp to effectively place your project in place while conducting a two-way sawing.
CONS
✗ The non pinned blade becomes bent with the passage of time due to the presence of small thumb screws that are used in order to hold it in place.
✗ It is extremely difficult to get your fingers onto the bottom blade adaptor without the removal of the whole left panel of the machine.
✗ As far as the usage of the blade adaptors is concerned, there are no adequate instruction on the instruction manual. That can make it difficult for a beginner to adjust the settings correctly on his own.
✗ There is a top light offering better lighting at the time of sawing, but requires you to adjust after almost every minute due to the vibration of the saw. The vibration would put the light the wrong way requiring manual intervention.
Now, one can see that the list of cons somehow appears to be larger than the pros. But when you look at the larger scheme of things, then you would find that the benefits easily overcome the limitations. WEN 3921 scroll saw is affordable for the features that it offers, especially when compared to the brands like DeWalt and Delta. That easily makes it within the grasp of the woodworkers looking for a cheaper companion at the workplace.
CONCLUSION
CONCLUSION:
I personally found WEN 3921 16-Inch Two-Direction Scroll Saw successfully fulfilling all my requirements at work. Yes, there are a few limitations, but I personally believe that there is no power tool with some setbacks in both smaller or larger contexts. Easy adjustments of blades with less vibration, as well as custom compatibility with different blades help me get the job done without much hassle. I hope your experience would also not differ to much extent.
Happy Shopping!!
No products found.
Frequently Asked Questions On WEN 3921

Q1. Is it possible to cut a 0.2 cm carbon fiber sheet from WEN 3921?


Yes, you can cut a 2 mm carbon fiber with the help of this scroll saw but purchase a different blade ( having higher TPI ) for this purpose.


Q2. Does WEN 3921 scroll saw have a dust port to connect shop-vac?


Yes, there is a dust port in WEN 3921, just below the front of the table.


Q3. What type of blade is best for WEN 3921 scroll saw?


Both pinned & pinless blade will work well but go for thicker blades if you are going to make tight cuts. Please check the blade specification below:




Q4. WEN 3921 VS WEN 3920 Scroll Saw – What is the difference between 2 models?


1. WEN 3921 scroll saw has a tool-free blade change feature while you need an additional tool to change the blade of the WEN 3920 model.
2. Wen 3921 is made up of better quality material than 3920.
3. WEN 3920 vibrates more in comparison to 3921.
4. WEN 3921 (27.5 lbs) weighs a little bit more than WEN 3920 (26 pounds)