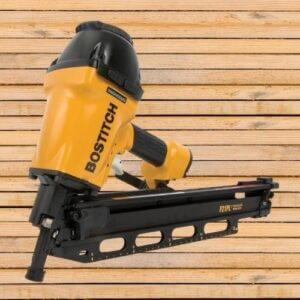 We all very well know what a framing nailer is all about, right? We can all call it an air gun in a carpenter's hand. The purchase of a reliable company brand power nailer can make your woodworking job a hell of a lot easier. You can simply switch from a conventional hammer, and make the job quickly with the help of framing nailers. It is primarily intended to use for high-powered big projects where the tasks are required to be finished by pros within a tight deadline.

The framing nailer model that we are going to discuss today is one of the popular product manufacturing by American power tool company Stanley Bostitch. It is currently in wide-scale demand due to its competency to resolve both lighter and heavy-duty construction works simultaneously. Yes, the wait is over! Today, it is the time to make you familiar with the unique selling features as well as pros and cons associated with Bostitch F21PL Framing Nailer.

Who Should Buy Bostitch F21PL?
Bostitch F21PL framing nailer is a perfect choice for contractors & woodworkers who do house remodeling or any large construction tasks. This model comes with a rubber grip and lightweight plastic design for easy hand management while tackling exhaustive heavy-duty projects. It is also good for you if you are looking for a nailer just for small repair works.
The tool can skyrocket the efficiency of the woodworker to a whole new level by easily framing any building, adjoining the boards and beams, attaching planks as well as making decks. Additionally, the tool can play the role of a perfect finisher in much lighter woodworking tasks such as constructing cabinets, cradling a piece of furniture, or moulding doors and windows at household and commercial premises.
Product Description of Bostitch F21PL
Table could not be displayed.
Key Features of Bostitch F21PL
The Features that Make this Nailer a Multitasker!
When I ordered my piece on Amazon a few months back, I had my own doubts in mind. Yes, of course, I had gone through all the features claimed by the company website as well as the Amazon Seller, but I was certainly skeptical about them as I did not get the best of claim on my Josch hammer drill that I ordered on Amazon 3 years back.
My basic work requires attaching the wood to masonry as well as trussing the assembly of beams in order to construct the rigid structure as per the order. That is the reason why I kept my finger crossed till I received the order parcel at my workshop.
The Nailer is Indeed a Multitasker
All my suspicions about the product went out of the window when I continuously used the nailer for the last 60 days. I used it to attach wood to masonry, trussing, as well as for framing, siding, sheathing, bridging, strapping, fencing, exterior decks, engineered lumber, and for installing metal connectors. The nailer can perform all these tasks effortlessly and helps you finish the job as per the commitment.
Easily Work with a Variety of Nails
I used it with stick nails that are 21° plastic collated with full round heads. But yes, you are required to use it with an installed standard framing contact arm. The lengths of the nails are 2 inches to 3-1/2 inches (50-90mm), along with the shank diameters of .113 inches to .162 inches (2.8 – 4.1mm). If you can install a metal connector attachment to the model, then you can use metal connector nails with 23° plastic collated full round head. The length of the nails would be between 1-1/2 inches to 2-1/2 inches (38 – 64mm), along with the shank diameters of .131 inches, .148 inches, and .162 inches.
NOTE: "Use only 1 stick of metal connector nails at a time".
2-in1 Nailers
It is one of the best features that I observed in the model to facilitate you to quickly change the nosepiece at the workplace. Easily adjustable settings to convert the tool for either framing or to attach the metal connectors mentioned above.
Diagram of How To Load Nails & Adjust Depth Control In Bostitch F21PL
Load Nails In Bostitch F21PL (Diagram):

Adjust Fastener Depth Control In Bostitch F21PL (Diagram):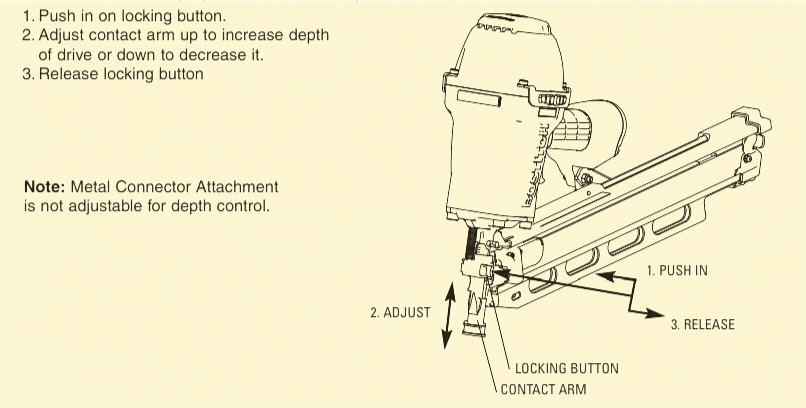 Additionally, there are certain pros and cons with Bostitch F21PL Framing Nailer that I personally came across. Here, I am only going to enlist the ones that I personally experienced and not the ones proclaimed by the company.
PROS & CONS of Bostitch F21PL
PROS
✓ It works on pneumatic power and all the pressure is generated via gaseous media to transmit and control the operations. It functions with compressed gas air pressure.
✓ The model comes with a patented push button in order to adjust the nails to the desired depths.
✓ There is a written limited warranty on the product from 1 to 7 years, which is maximum when compared to other brands with similar features and price.
CONS
✗ As I am using Bostitch F21PL Framing Nailer on a daily basis (and I believe most of you reading this review intended to do so), it is necessary to add oil on a daily basis. I found it essential to keep the internal components moist and properly lubricated. Prevent excessive oil, as as it might coagulate the ports and the chambers. I think this regular oiling might create problems in the winter when it will naturally thicken and slow down the reaction of the moving parts. I personally think of a model with oiling requirement in 4-5 days would have been more appropriate.
✗ I recommended the variety of nails above because I do have them with me. But when I searched them in stores and online, I found a shortage of them. One of my known store managers, Glenn told me that these nails are gradually becoming outdated and might become fully out of stock in the coming few years. So, I recommend you to have them in advance or check first whether they are accessible near you or not.
I found the price of the product personally worth it in terms of the benefits as well as the warranty, and I believe you too would find it accessible within your budget. But if you are interested in exploring an alternative product from another brand with identical features at an affordable price, then you can check-out AeroPro 700V Professional Grade Heavy Duty Pneumatic Punch Nailer.
No products found.
FINAL CONCLUSION
CONCLUSION:
Bostitch F21PL Framing Nailer is working fine for the professional-grade requirements of mine. It can perform a range of functions and is conducive with a variety of nails. Though the oiling requirement has created a bit of hassle for me, but, if that is okay with you all, then you can certainly give this product a shot for all your nailing requirements.
Good Luck!!
No products found.