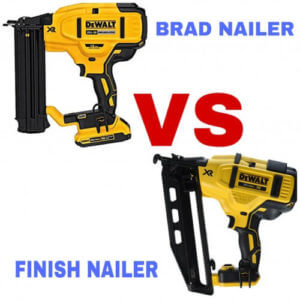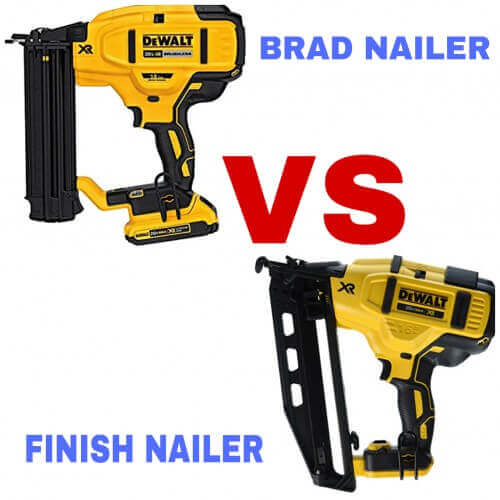 One of the power tools that are popular among DIY-ers and professionals is a nailer. However, the 2 most familiar nailers: Brad nailer and finish nailer often create confusion for many people. These 2 forms of nailers are used indivisibly by most of carpenters who are beginners in this field. The two nailers might look similar but they have great differences. Their application uses are different and therefore it is significant to make proper selection for doing the job in a better way. Let us begin examining the brad nailer vs finish nailer in detail so as to develop better understanding and select the most appropriate tool for specific jobs.
Considering the gauge:
It is significant to have knowledge about nail gauge before we begin with the differentiating factors of these two guns. Nailers have 18, 16 & 15 as the common sizes in gauge. In other words, the thinner the nail, the higher the number of gauge.
Bytheway, you can also check our detailed review on some top nailers or nailguns available right now in the market.
What is Brad nailer?
Brad nailers have smaller head in comparison to the standard nailer and they are thinner. The product is preferred to attach woodworking project with lightweight trim along with small and stop moldings. They are less liable to crack the molding and leave smaller holes since Brad nailers use 18 gauge nails. Any project of home renovation can find Brad nailer as the perfect option in case it demands limited visibility of holes and delicate nailing.
Two types are there in Brad Nailers: Electric and Pneumatic.
Air compressors are paired with Pneumatic brad nailers and they offer high efficiency. Continuous air supply is required by Pneumatic brad nailers to operate well. Whereas the electric brad nailers are heavy and more expensive but are also more powerful in comparison to the pneumatic brad nailer.
The design of these nailers is for 18 gauge nails and they are used for smaller applications where nail head size or wood splitting is the point of concern. The size of hole of 18 gauge brad nailer is compact and therefore results in very less mark in the woodwork.
This is the recommended pneumatic brad nailer:
No products found.
And, this is the recommended electric brad nailer:
No products found.
How to make use of a brad nailer?
As mentioned above, the nailing projects that are delicate require brad nailers. Most of the carpenters and DIY-ers prefer this tool. Brad nailer is fairly safe to use but it is recommended to make use of protection when you are working with power tools. You can use thick gloves, safety goggles pair and hearing protector while using this tool.
Also, it is important to take care of Brad nailer placement. It might result in splitting if the position is just next to the edge and therefore fair distance should be there between the two. Board thickness can help in determining edge distance from Brad. Do not forget that in comparison to the other common nails, Brad nails are slender. This also means that these nailers do not sink from end to end of the stock and can easily bend with hammer. So do not use hammer to help the nail make through the remaining way. The better option is to try again after removing the nail as hammering may result in visible damage by pulling out stock part by nail.
Uses of 18 gauge Brad nailer:
These nailers are perfect for the applications where the requirement is for a thin nail for small hole or where splitting are point of concern. The most frequent uses of Brad nailers are:
Casing
Trim work
Baseboard
Decorative molding fastening
Paneling
Brad nailer benefits:
Perfect for delicate or thin wood where splitting is major concern.
Things are held in place temporarily by brads.
Their nail head holes are small.
Small projects find these nails as the perfect options. These include making picture frames, jewelry boxes, or attaching decorating edges and trims to cabinetry.
Brad nailer drawbacks:
Can not be used with thick, large wood pieces. These are not able to penetrate MDF or thick plywood
In case of pneumatic nailer, you need to make investment in air pump as well
Best brad nailer that you can go for:
DEWALT DCN680D1 Cordless Nailer
It eradicates the hassle of using compressor, gas and hose as it is totally battery powered.
It is well suited with all batteries of DEWALT 20V MAX.
With the help of LED lights that are multifunctional, you get both tool diagnostics and workspace illumination.
Unwanted marks and dry firing on work material are prevented by low nail exclusions.
Selectable tool free trigger is there in contact or sequential actuation modes.
No products found.
What is finish nailer?
The working of finish nails exactly matches with their name, i.e. they are job finishers. Thicker nails are used in these nailers that run 16, 15, and 14 gauge nails. They are headless and non-removable and their job is to merge in the wood.
It is the nail gauge that marks the major difference between brad nailer and finish nailer. The hold that finish nailers develop is much stronger and therefore they are useful for attaching cabinets, heavy baseboards and crown molding. Brad nailer cannot perform these jobs. Another interesting fact about finish nailers is that, they are available in both angled and straight designs.
Finish nailers are also available in cordless and pneumatic versions and of these, the later ones are significantly lighter and more powerful. It is also a good option when an air compressor is already there with you and if not, you can also go for cordless options. In case the job demands working on a ladder-top such that you need to go up and down then the better option is cordless nailer since you can use it without any worries.
How a finish nailer is used?
These nailers are useful to get sturdier results and help to force in the thicker nails. Similar to Brad nailers, they serve perfect for molding and trim work but can also take care of baseboards and door casing. It is important to use it after going through proper safety directions. This means that you should properly equip yourself with thick gloves, eye protection and hearing protectors (such as ear muffs and ear plugs).
Before you begin working with the finish nailer, it is important to lower the safety nose so as to prevent the trigger from unintentional pulling when you are not using the nailer. Next, for preventing damage, you should slide the anti marring rubber over nose tip. You should also take care of positioning the nailer till the tip is on the point where you want to insert the nail. It is important to make sure that the position of nailer is perpendicular to trim. In addition to this, you can also make use of a hammer to help the nail make its way in case it is not able to force from one end to the other.
What are finish nailer uses?
The projects that demand heavy duty find finish nailer as the perfect option since they are ideal for applications in which you need more holding power and strength. Following are the most common uses of finish nailer:
Exterior trim
Installation of base and crown moldings
Staircases
Door and window casings
Soft and hardwood flooring
Cabinets
Chair rails
Finish nailer benefits:
It is able to hold heavier and thicker wood. On account of longer and wider nails, finish nailers serve as a great option for molding, baseboards and cabinetry.
They help in developing a permanent hold. Once you drive a nail with the help of finish nailer, you can rest assured that it will not move from its place.
Finish nailers are highly flexible and you can use it with wide range of surfaces and materials.
The need of reloading is not too often since nails are available in long strips.
Finish nailer drawbacks:
This is not an appropriate option for delicate and thin materials.
Finish nailer make use of wide nails and it is highly powerful as well so that chances of thin material splitting are high.
The holes that finish nailer leave behind are large and therefore demand filling. This makes the overall process time consuming
In case of pneumatic nailers, it is necessary to buy an air pump as well in case you do not already own one.
Best finish nailer you can go for:
DEWALT DCN660B 20V 16 Gauge 20° Finish Nailer
No products found.
When you should use a finish nailer vs brad nailer?
The choice of nailer is job dependent. You cannot use finish nails in brad nailers and therefore it is important to assure that right tool is matched with the job. Some examples to show which is the appropriate tool for different jobs are:
Brad nailer is useful for:
Repairs and home improvements like addition of crown moldings or adding baseboards, locking loose trims to the cabinets. They also serve as the appropriate option at the time of interlocking floors installation for getting that surplus hold.
Holding the surfaces collectively for purpose of gluing. In the mean time while the adhesives or wood glue are setting, the brad nailer help in temporarily holding the things together. You can also remove it easily if needed.
Brad nailer is an ideal option for small scale projects of crafting so that you can make birdhouses, picture frames and models.
Finish nailer uses:
Chair rails
Door casings
Attaching thick, large pieces of molding trim
Crown molding
Baseboards
Projects that demand structural integrity instead of appearance and depend on nails
So it is now clear that delicate projects and small inflections demand brad nailers while for the tougher jobs, finish nailers are perfect. But what is the best option of these two for the middle case when you can either go for molding or baseboards?
The answer is, it depends. In case thick and heavy materials are your choice for baseboards then you can go for finish nailer. Any of the two can serve as a good choice in case your choice is thinner, lightweight wood. However, it is important to consider the fact that for a permanent hold, finish nails are good choice and are therefore recommended for paneling or molding projects.
To decide as which tool best serve the purpose, you need to consider the projects that you are about to begin. A brad nailer stands perfect in case your projects include making delicate, small things such as jewelry boxes, picture frames or dollhouses. On the other hand, a finish nailer can serve as the best choice in case you have to handle large projects.
Do consider the fact that finish nails are thicker and longer and are ideal options for enduring applications. The long length of these nails stands as one of the reasons behind their popularity as they can actually help to hit the wall studs in case it is essential. This is best for chair rails, heavier molding and other applications where you need to permanently hold the things to wall.
Is it possible to use the finish nails in the brad nailer?
No. The 16 or 15 gauge wire used for making finish nails is heavier when compared with the brad nails having 18 gauge wire. This reflects that thickness of finish nails is excessive to be shot through the brad nailer.
Best nailers that might find useful:
Palm
Flooring
Framing
Roofing
Pin
Also know,
At the time of selecting a dependable nailer, it is necessary to invest some time in comparing the accessories and features of the nailer. Research can help you find some additional features in nailers such as pre-set abilities and functions so that you need not to invest energy and time for the additional work.
In the long run, you can also save money with the help of these extra accessories. You can find matching accessories with some nailers designed to pair with it so that there is no need of buying extra accessories one by one. You can find additional accessories and features in both finish nailers and brad nailers.
Some of the common features that you can find in finish nailer and brad nailer:
Depth analysis: You can find the system of depth analysis and adjustment in the good finish nailer or brad nailer. With this, you enjoy nailer ability to adjust the depth of puncture manually or even automatically in some cases, based on wood thickness.
The system of depth adjustment guarantees thorough penetration of nail in the wood on first go offering results that are splinter free and better. In the case of finish nailers, this feature is particularly handy since they are harder to take out and are likely to splinter a lot in comparison to brad nailers.
Loading: This term is used for loading new nails in finish or brad nailers. Magnetic strips are used in the famous nailers so that finish or brad nails remain in place at the time of loading.
The other handy option is canister loading. All you need to do is purchase nails in canisters or packs and load it in nailer. This option is also great for evading spills. On the basis of brand, canisters are able hold several nails.
Adjustable belt hook: This is a reusable and handy accessory that allows you to hook the nailer to the belt making it easy to maneuver, portable. With this, you can work with a different tool without placing away the nailer.
Angle adjustments: This feature helps in adjusting the nose of nailer at different angles. It serves handy for home revamping and refurbishing round the house. With the help of angled nose, you can drive the nails more firmly and deeper in wood to ensure enduring results.
Cord: It is definitely significant to consider whether you like have a cordless or corded nailer. Finish nailers are cordless while brad nailers are likely to be corded. Compared to the cordless tool, the corded nailers are less portable but set a tough strike. The reason is that unknotting and unraveling the cord takes additional time. Cordless nailers are not much portable while cordless ones are likely to be heavy on account of the integrated battery.
Warranties: This extra feature is perhaps the most essential one that you must find out at the time of selecting a nailer. The repairs cost might be covered in the warranties due to defects in products in workmanship or materials. You can find warranties of 3, 1 or 5 years. You can also find whether the warranties cover handling and shipping as well.
Along with warranties, some manufactures also offer money back assurance that lasts for 30 days or 90 days. You can also look for the plans of 3rd party protection and guarantees of customer service.
I hope you will now easily decide on brad nailer vs finish nailer: which one is best for your work.
Here are some popular brad nailers which you can buy right now:
No products found.
And, here are some popular finish nailers:
No products found.
If you love gardening then you may like these articles: