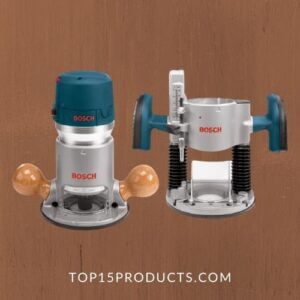 Bosch is a name that is successfully standing the test for the time for over a century and so are its wood router machines. The Bosch wood router model that we are about to discuss is considered to be the flag-bearer of premium quality, and operational endurance for the last many years. It has witnessed many products come and go, but itself maintained the reputation of being on the hot favorite lists of the users across the globe. Yes, we are talking about Bosch 1617EVSPK Wood Router, and in this review, we are going to learn which features make it an outstanding choice from its competitors.
Which type of users should actually go for it?
What are the common pros and cons that you possibility come across?
Is it truly worth the price that you pay for it?
Well, there are lots of questions to answers, so let's begin!
Bosch 1617EVSPK Wood Router covers one of the widest range of routing applications. Being in the woodworking profession myself, I well understand what you actually anticipate out of the best wood router in the business. Personally speaking, the router is the most multitasking tool in my garage to easily match my needs related to bit plunging, slot cutting, edge forming dovetail cutting, and not to mention, laminate trimming. This product can easily be used with various router tables.
The router is recommended to both the professional woodworkers as well as those individuals who occasionally required to address their cabinetry needs. It features Variable-Speed Router Kit effectively performing on both fixed and plunge router base.
My experience with the router in the last three months helped me realize the fact that it can get the job done swiftly and precisely. That is what we all anticipate from our tools on the professional front, right? The motor is surely powerful with precision bases and modern speed control technology. It definitely helps both the beginners and the pros to adjust the settings according to the requirements.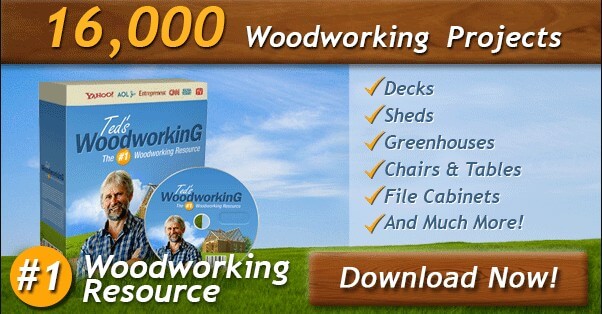 Diagram of Bosch 1617EVSPK Router
Here, Bosch 1617EVSPK is actually a kit containing Bosch 1617EVS Fixed Base Router & Bosch 1617EVSP Router With Plunge Base.
So, there will be 2 diagrams –
1) Bosch 1617EVS Fixed Base Router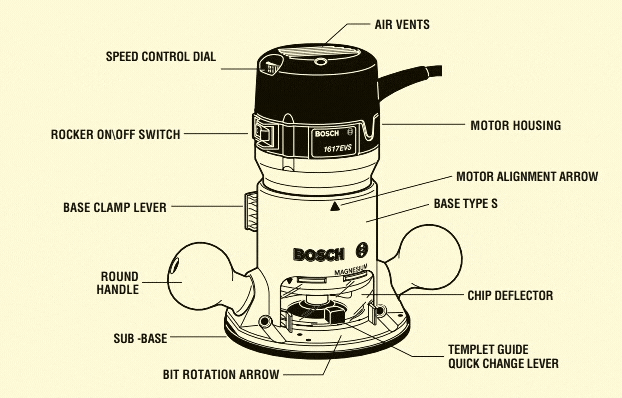 2) Bosch 1617EVSP Router With Plunge Base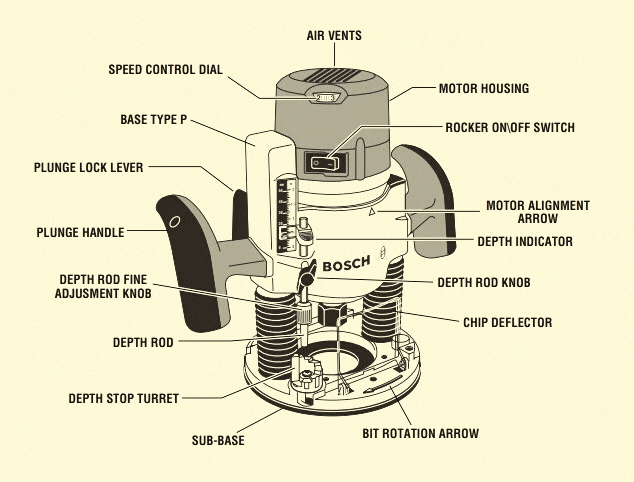 Product Description Table of Bosch 1617EVSPK Router
Table could not be displayed.
You may also like to check our list of 15 best wood routers (both corded & cordless, plunge & fixed base).
Key Features of Bosch 1617EVSPK Router
The Features that Amaze Tyros and Pros Alike!
The following are some of the key features that I personally feel make this wood router a great choice for everyone. Not just the professionals with years of expertise in the field, but also the beginners can also use it effortlessly.
Knockabout Design for Enhanced Endurance
The bases along with motor housing are made from aluminum, which automatically makes the product robust for better performance. Besides, the power switch is fully dust-sealed to help take the durability of the model to the next level. 
Start-up Torque Stabilizer
Being a professional in the woodworking business, this term might appear far away from layman's dictionary. But it is imperative for you to understand the same. The start-up torque of the router is stabilized by Constant Response Circuitry along with microfine bit-depth adjustment. In simple words, it offers a better grip even on uneven surfaces and provides the user a better grip right from the initial routing.
Double Insulated Appliance
Bosch1617EVSPK Wood Router is a modem appliance that is not earth wire fitted. It is primarily because of the fact that it is double insulated and the electric parts of the router never come in contact with the external casing of the device. That is why even a tyro with less understanding of things can use it with complete peace of mind without worrying about getting electrocuted.
Three-hole Base Pattern
It follows a threaded three-hole base pattern enabling the user to apply more templates and bring out more functions while cutting, edging, and trimming.
These features along with versatile speed varying from 8,000 to 25,000 revolutions per minute (RPM) and 12 amp motor backed by Bosch's trust can compel anybody to click the order button without any hesitation. 
Now, let us segregate the product in terms of the basic pros and cons to help you reach a better understanding. Here, I am only incorporating the pros and cons that I have personally come across the Bosch wood router while using the same.
PROS & CONS of Bosch 1617EVSPK Router
PROS
✓ One of the best parts that come along with the product is the warranty. The company offers 1 year unconditional warranty, along with 1 year service protection plan and 30 days money back guarantee.
✓ The case is made from hard plastic to bear the fall to a good extent. It fell from four to five feet height twice in my garage and successfully came out unbroken. Though, I would still suggest to handle it with care while working.
✓ Better user control and grip while working due to rounded hardwood handles. It would ensure that the control and the grip would not be dependent on the size of the hand, delivering better thrust and precision.
CONS
✗ Though the power switch is shielded from dust, the same cannot be said for the case, where the dust tends to get stuck because of the cut. We hope the issue would get addressed and eliminated in the future versions to come.
✗ I personally did the Math and found that this wood router is not 2.25 horsepower (as claimed by the company), rather 1.93 horsepower. As it is running on 12 amp motor, you can simply find the right answer by multiplying volt and amps and divide the same by 746 watts. Please note that 746 watts is the electrical equivalent to one horsepower.
For the brand name and the features combined with it, Bosch 1617EVSPK Wood Router appears to be a good deal for the given price. But if you are ordering it outside the United States then the shipping charges incurred would be nearly half of the actual price of the product.
No products found.
Frequently Asked Questions On Bosch 1617EVSPK Router

Q1. Can we use a trim router with a Bosch 1617EVSP Plunge Base?


No, in most cases, you will not be able to put a trim router in this plunge base. It totally depends on which trim router model you are using because the diameter of most of the trim routers is small that will not fit in this large diameter plunge base.


Q2. Is there any LED light in Bosch 1617EVSPK?


No, there is no LED light in this Bosch router


Q3. Is the power switch of Bosch 1617EVSPK dust-proof?


Yes, it is totally dust proof because it is perfectly sealed so that no dust particles could enter.


Q4. With which router table, Bosch 1617EVSPK wood router fits perfectly?


You can use the same brand router table, i.e. Bosch RA1171 & Bosch RA1181. These two router tables will fit perfectly with the Bosch 1617EVSPK router because both tables come with an adapter plate that is totally compatible.

Bytheway, this wood router is compatible with almost all good router tables available in the market but still, I will recommend you, check whether their adapter plate comes with pre-drilled holes or not.
Though, many people drill holes themselves if it is not there.


Q5. Does Bosch 1617EVSPK come with a carrying case?


Yes, this router comes with a hard plastic carrying case that has some space to keep basic accessories like wrenches, router bits, etc.


Q6. Does Bosch 1617EVSPK come with a circle jig & edge guide?


No, this router doesn't include any edge guide or circle jig.

CONCLUSION
CONCLUSION:
The product is the best bet for both beginners and professionals and there are no serious setbacks associated with it. I would say that Bosch 1617EVSPK is an affordable option because you get a quality tool under $200, totally worth it. The inclusion of this tool reflected positively to my overall scheme of things and I firmly believe that the same would happen with you.
Alternative of Bosch 1617EVSPK Router
The alternate option for Bosch 1617EVSPK is DEWALT DWP611PK.
Let me compare both in short by mentioning few features:
The power of the motor is comparatively less (1.25 hp) than Bosch 1617EVSPK (2.25 hp).
But the speed of the motor in Dewalt DW611PK is more ( 16,000~27,000 RPM ). So, it depends on you whether you need a powerful motor or more speed. Both are pretty close.
This Dewalt router comes with a dual-LED light while it is absent in the above Bosch model.
Dewalt always wins the race when it comes to the warranty period. It has a manufactured warranty of 3 years while the Bosch has only 1 year.
Dewalt DW611PK is a little bit lighter ( plunge: 6.2 pounds & fixed: 4.6 pounds ) than Bosch 1617EVSPK. 
Or, you can directly buy from Amazon by clicking below. ( contains affiliate link )
No products found.