Our decision to purchase a reliable leaf blower ought to be dependent upon various factors. The utility of the blower is dependent on performance, endurance, and maneuverability; as well as the factor whether it is being employed for personal or professional use. So, in this article, I am going to write a short but detailed review article on Dewalt DCBL720P1 leaf blower
Let's check the diagram first:
Diagram of DEWALT DCBL720P1 Blower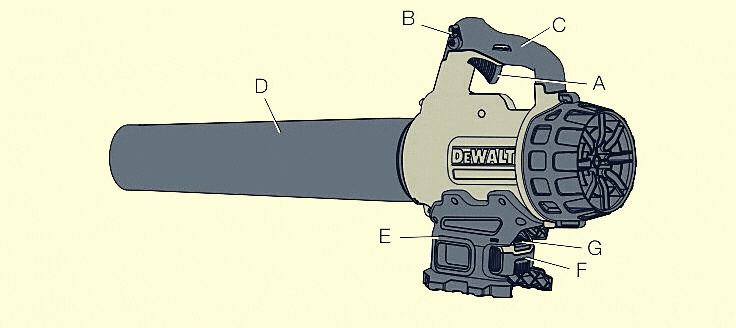 Product Description Table of DEWALT DCBL720P1
Table could not be displayed.
Who Should Choose Dewalt DCBL720P1?
" Dewalt DCBL720P1 is an Ideal Cordless Choice for Small and Medium Yards "
.
It is a premium choice for those individuals who are seeking to maintain small to medium size yards, workshops, or sidewalks with the help of a heavy-duty cordless leaf blower. Weighing less than 8 pounds, it can be effortlessly handled and used by both home-makers and professionals alike.
As the model is battery-backed, it is not dependent on a power outlet at the time of operations, and the user could experience the ease of operations without getting tangled among the wires. The best part of the model is that it is made up of quality components without compromising the weight.
The model reflects a stylish design along with an appealing yellow and black color. It features an extended nozzle to reach the corners of your potential cleaning area and remove dust, dirt, and debris effectively. Below mentioned are some of the key features on the grounds of which we can evaluate whether the purchase of the DEWALT DCBL720P1 model is a prudent choice for you or not!
The Features Responsible to Make Dewalt DCBL720P1 A Top Pick:
Pre-eminent Battery Power for Steadfast Runtime
The runtime of the blower would somehow be between 20-40 minutes, based on the settings used. The time duration is certainly encouraging and makes it a reliable choice for both personal and professional use. It is achieved with the help of 20V MAX 5.0Ah Lithium-Ion Battery, accessible along with a charger. It is the feature that is directly associated with its endurance and performance output.

Modest Noise Range
With the noise production range up to 61dB, it is an acceptable model in both commercial and residential areas. It is recommended in those areas where there are noise restrictions imposed by the local housing societies and you are looking for a low noise leaf blower, then DEWALT DCBL720P1 is a choice worth looking forward to.

Better Control and Performance
This Dewalt model features a variable speed trigger to help impose maximum control at the time of operations. The better control ensures a performance up to 400 cubic feet/min of air volume along with the air-speed of 90 mph.

Brushless Motor
DEWALT DCBL720P1 offers better durability and high efficiency of the motor with the help of brushless features.
The usage of a brushless motor makes the model a better choice than the conventional models with direct current (DC) operations without the involvement of any mechanical brushes. It ensures fewer glitches and longevity in performance.

Ergonomic Design
Most of us do not talk about the latest ergonomic design of DEWALT DCBL720P1 which is achieved with perfection not just externally but internally as well. The design has been focussed on better appearance, handling, and performance with ease of maneuverability through lightweight design and application of material that is light in weight, yet robust in function.
This Dewalt leaf blower has a lightweight ergonomic design that eases the control for both homemakers and professionals and reduces the stress on the arm while non-stop usage for several minutes.

These features indicate the fact that DEWALT DCBL720P1 could be a pre-eminent choice for both commoners and professionals to operate on both small to standard size yards, along with pavements, sidewalks, workshops, and warehouses.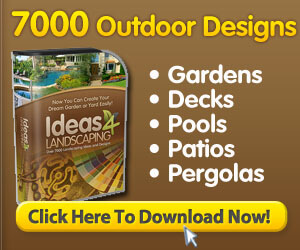 ***Contains Affiliate Link
Now, let us shed some light on the pros and cons associated with this lightweight leaf blower that sets it apart from other models in the same range and capacity.
Pros & Cons of DEWALT DCBL720P1
PROS
✓ Modern axial fan design maximizing the output of air along with the runtime. The design is more conducive to different trigger settings and assures long-term consistency in performance.
✓ Speed locking feature to remove debris at a constant speed and offer a better blowing impact on a specific region for quality cleaning.
✓ Trigger to alter the usage of power as per the requirement and convenience.
✓ The model is equipped with a battery indicator to notify the drainage of the battery and to help you adjust the working functions accordingly.
✓ Demands less maintenance as the model is free of the carburetor, air filters, and spark plugs.
✓ Limited warranty for 3 years at different service centers of the company.
CONS
✗ Though it can be used on large size yards, it is not always advisable as the speed settings and battery capacity could offer the adjustable time of 20-40 mins in one go, it cannot perform up to its optimum level while operating over large size yards.
✗ As there is no padding available on the handle, the leaf blower might feel a bit uncomfortable to hold. The problem would be more common to beginners or common home-makers who tend to use the device occasionally for cleaning purposes.
Frequently Asked Questions On DEWALT DCBL720P1
Q1. How long does the battery last & what is the charging time?


The battery of DEWALT DCBL720P1 lasts up to 30 minutes in a single charge. Many customers said that it lasted more than 1.5 years & it is still working fine for them. I will recommend you to buy an extra battery so that you do not have to wait for charging.

Above, I have already recommended the best battery for it.

Charging time is approx 30~40 minutes for this battery


Q2. What is CFM & MPH in the leaf blower?


CFM ( Cubic Feet Per Minute ) is the unit of measuring air volume per unit time that tells you how much air can a leaf blower delivers.
For example, if a leaf blower has a CFM of 500 then it means the blower can fill a room of size 7.9′ x 7.9′ x 7.9′ with air in just 1 minute.

Mph is just the speed of a leaf blower that is measured in miles per hour.


Q3. Does Dewalt DCBL720P1 come with a strap?


No, Dewalt DCBL720P1 does not come with any strap & it is not necessary either because it just weighs 7.1 pounds ( 3.22 Kilograms ). You can just use it by holding it with one hand.


Q4. Does Dewalt DCBL720P1 also have a vacuum feature?


No, Dewalt DCBL720P1 doesn't have a vacuum feature, which means it will not suck up any leaves to the attachment bag. It can only blow leaves or snow off your car.


Q5. Can we use a 60 Volt Battery on this leaf blower?


No, you should not use a 60V battery as it is clearly mentioned in the product description – 20V Max. But, there are some customers who used 60V and they got good results & more important, it is still working for them. You should not take that risk though.

Bytheway, you can use a 6Ah, 20V battery instead of 5Ah, 20V. It will work fine



Q6. Can we use a battery of cordless drill on this Dewalt Blower?


Yes, you can interchange it but it should have 20 volt battery. Also, make sure that it has a power of 5 ampere-hour (Ah) otherwise the runtime of blower will be very low. ( More Ah means more runtime of the blower )


Q7. Are there any accessories available for gutter cleaning that can fit with this blower?


No, you can not use any kind of attachments with this blower.
CONCLUSION
CONCLUSION:
The evaluation of DEWALT DCBL720P1 on the basis of the features described and the pros and cons discussed, it is pretty evident that the blower is a good value for the money. If your leaf blower utility is limited to standard yards only and in case you are not much bothered about the handle padding, then this model is highly suggestive. The model features one of the finest designs along with the best in business battery and motor. It is certainly lightweight and easy to use everywhere due to its noise reduction features.
So, if you are looking for a leaf blower with a steadfast runtime and elegant look and design, then this model is surely worth checking out.
No products found.
Alternative Of Dewalt DCBL720P1
If you are looking for an alternative of this model then you can check out the advanced version of this Dewalt DCBL720P1 leaf blower, i.e. Dewalt DCBL722P1.
Just by spending a few dollars more, you can get the powerful & advanced version of this model. Everything is almost the same except these features:
Its maximum air volume is 450 CFM instead of 400 CFM, only 50 cubic feet/minute more.
This blower has also a variable feature but the blower speed is 125 miles per hour instead of 90 Mph.
The noise rating of this alternate blower model is 5 dB more than the Dewalt DCBL720P1, i.e. 66 decibels but still it is quite good if you live in a noise restriction area.
Other features are approximately the same & yes, don't worry, it also comes with a lithium-ion battery. I would recommend you to buy the advance model just by spending a few bucks more if you were thinking to buy DEWALT DCBL720P1.
No products found.