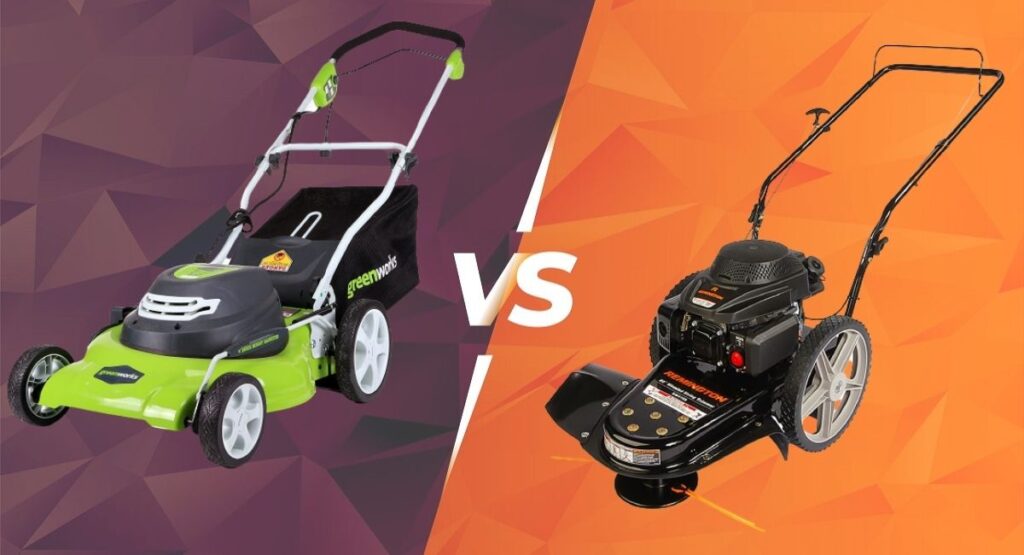 When it comes to taking care of the lawns, many homemakers and handymen have to make the best choice between ELECTRIC VS GAS LAWN MOWER. The lawnmower is a crucial purchase, and it is expensive too. So, you have to make the right pick that suits the specific needs and your budget. Depending upon your lawnmowing needs, you have to make the selection.
It is challenging for the average handyman to choose between gas and electric lawnmowers because each comes with its pros and cons; how to decide which lawn mower is the best choice for you before getting into the store. The guide below would help you to make the right decision to keep your lawn look beautiful and pristine.
Overview of Electric Lawnmower
Generally, the electric lawnmowers are available in two variants – corded and battery-powered mowers. The corded lawnmowers need to be plugged into the power source to keep them operational. The battery power models need no additional power sources as it runs using the built-in batteries which need to be charged after every use.
Battery Vs. Corded Electric Lawnmowers
The battery-powered lawn mowers are highly convenient and comfortable because there is no restriction in your movement and range. However, the batteries are required to be charged, and with a full charge, it only lasts up to 30-60 minutes, depending upon the operation time. It is replaced once every few years. Many handymen prefer using the corded lawnmowers despite their limitation in the movement and range because of such issues.
The biggest advantage of using electric lawnmowers is that it is noiseless and it reaches up to 75db. So, it is the choice to mow a lawn without disturbing others in your family and neighbors. Besides, the electric mowers are user-friendly, and maintenance is also a breeze as there is no requirement for oil changing, sparkplug cleaning, and maintenance of the carburetor. The electric mowers start working with the touch of a button.
Power – The power source of the electric mowers is either battery or electric current. There are pitfalls associated with the battery-powered electric mowers as replacement of batteries is needed after a few years of usages, and it can be an expensive affair. So, people use corded models to avoid such issues. There is no need to charge the battery as you can plug-in the mower and start mowing the lawn without worrying about the battery charges. With the use of the extension cord, the issue of range and movement can be eliminated.
Performance & Environment – The electric mowers are eco-friendly than gas mowers. It releases no gas or pollutes the air like the gas mowers. However, the performance and power cannot match the gas mowers. It is not a good choice for large lawns and yards and uneven terrains.
Pros & Cons of Electric Lawnmower
Pros
User-friendly
Lightweight and quiet
Eco-friendly 
Good for small yards and lawns 
Cons
More expensive
Less powerful and durable 
Battery replacement needs
Electric cord restricts movement and range
Our Favorite Corded Electric Lawn Mower
No products found.
Our Favorite Cordless Lawn Mower
No products found.
Overview of Gas Lawnmowers
Many handymen and homemakers consider gas mowers a bad option for the environment and challenging to use. Luckily, the modern-day gas lawnmowers are quite advanced to make lawn mowing convenient. The emissions of the modern gas mowers are cleaner than their predecessors. Some models even feature a push to start function like the electric lawnmowers, making the gas mowers convenient and effective for mowing large yards.
Price & Durability – The gas lawnmowers reach a sweet spot between durability and affordability. With little maintenance, the gas lawnmowers could last for at least ten years. So, it is highly durable and lasts longer than electric mowers. Electric mowers are expensive and tend to last fewer years than gas mowers.
Performance and Power – Gas lawnmowers are the best choice to efficiently deal with thick grasses and big yards. It can be used on uneven terrains, and it can handle slopes efficiently. There is no battery or electric requirement to use it until the last drop of the fuel.
Convenience – Apart from all these benefits, there are some pitfalls in the gas mowers. It starts with the build quality of the gas mowers. Because of the steel construction, it tends to last longer. But the steel iron makes the mower heavier and hard to move around the yard. Plus, the gas mowers are not user-friendly like their electric counterparts. Engine maintenance, changing the oil, and refilling gas will add up to your mowing time. Until it a one-touch start mower, users have to pull the cord to start the engine, and it can be tiring and annoying.
Noise – Undoubtedly, the gas mowers are very powerful, and power comes with a hefty price tag. Moreover, gas mowers are louder and cause 95-100db noise, which can irritate others. It also contributes significantly to air pollution. It is a bad sign for the environment.
Pros & Cons of Gas Mowers
Pros
Cost-effective
Robust steel construction
Lasts longer
No cord or battery needed
More Powerful 
Cons
Difficult to move and store
Air pollution
Louder model than electric mowers
Frequent maintenance needed
Need to replace oil and refill gas  
Our Favorite Gas Lawn Mower
No products found.
Our 2nd Favorite Gas Lawn Mower
No products found.
Lawnmowers Considerations
When deciding between ELECTRIC VS GAS LAWN MOWER, you have to consider several factors to make the right choice.
Motor Power – The power output of the lawnmower must be the first thing when comparing the models. If you have a large property and often deal with bumps, stones, rough springs of grasses, then a gas-powered motor is the best choice. The gas mowers come with the highest power output, and it can deliver you desired results. The electric-powered mowers are the best choice for small lawns and yards. The motor power output of electric mowers is limited, and it can handle small yards efficiently and not the big lawns.
Operation – When comparing ELECTRIC VS GAS LAWN MOWER

operations, you have to consider two crucial aspects – the weight of the mower and maneuverability. Consider how you will be using the mower and determine if corded models are best for mowing or need more powerful operation with the gas mowers.

Runtime – If you want the mower with the highest runtime, then consider buying the electric mower. As long as it gets unhindered power supply, it will keep cutting the grass in your lawn. But, if your area has a blackout, it will be a useless model, and this is where gas mowers come in handy. You may also opt for the battery-powered mowers in such a situation. But the machine's runtime is limited to 6-8 hours depending upon the battery back-up it offers. Avoid all these situations and invest in gas-powered mowers. The gas mowers come with a one-gallon gas tank sufficient for handling a family-sized lawn or yard. Until there is gas in the tank, it will keep cutting grasses on your lawn.
Operating Costs – In terms of operating costs, electrical models are cost-effective to run. The gas-powered lawnmowers require gas, and it is expensive as compared to electricity and battery. Plus, the motor's maintenance cost is another concerning factor for many handymen and homemakers in the tight gardening budget.
Which One to Choose Between ELECTRIC VS GAS LAWNMOWER?

When choosing between ELECTRIC VS GAS LAWN MOWER, you must not listen to the sales representatives and make your decision based on multiple considerations. It is crucial to know how you will be using the lawnmower and choose it accordingly. Besides, you have to consider the runtime, size of the lawn or yard, and the terrains you will be mowing. If it is a small backyard with manicured lawns and grass, then electric powered lawnmowers are the best choice, especially if your backyard has less grass to handle. 

But, if you live in a large estate or property, then gas-powered lawn mowers are the best choice for you. So, which is the better choice between ELECTRIC VS GAS LAWN MOWER? It all comes down to your specific preferences and needs because each model comes with its pitfalls and benefits.  

The electrical lawnmowers are the best choice for homemakers with small backyards and lawns with less grass to handle. It offers convenience and no-maintenance experience in lawn mowing. If you don't hesitate to mow your lawn or yard with cords and batteries, electric lawn mowers are the best choices.

However, gas-mowers are the best choice for big properties, uneven terrains, slopes, and big yards with long and tough grasses. The gas lawnmowers demand more elbow grease and effort for maintenance and handling the machine. It costs you less than electric models and lasts for years to come, and more durable than electric lawnmowers. 

When it comes to choosing between ELECTRIC VS GAS LAWN MOWER, you must always take time to find the best lawnmowers for your home. You must compare the different factors mentioned above and always check different sellers' pricing to grab cheaper and affordable deals. Consider the runtime, motor power, application, and size of your property to make the right choice. So, choose the right option as per your needs.  


Few More Review Articles For Gardeners: