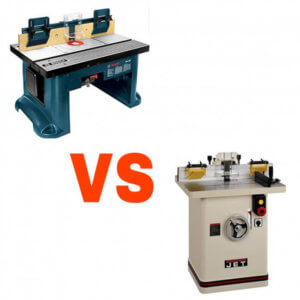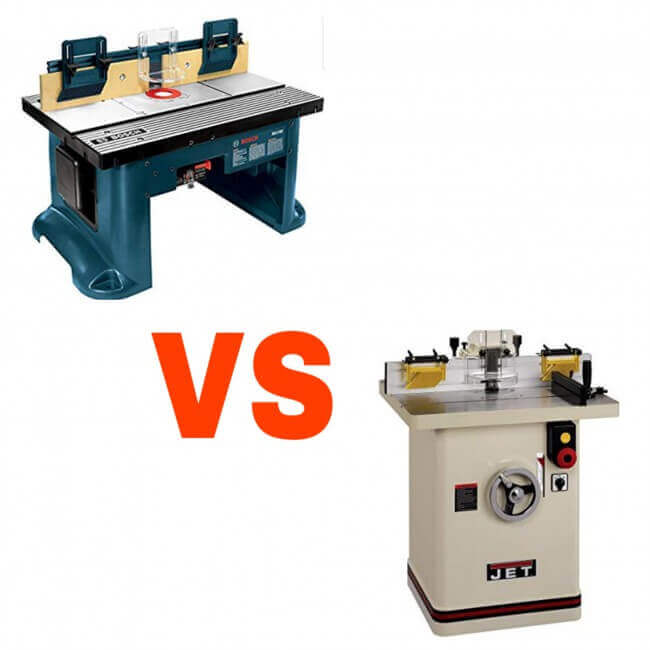 Are you struggling with space or money back at your woodwork office? If yes, then I am here for your rescue. Now if you've managed to reach this article, then I certainly get the confusion you have in your mind for having to choose between a router table or a shaper. It is essential to make the right decision because your job as a woodworker requires efficient usage of time, money as well as space which either of these tables will save.
A number of people before making a purchase don't research thoroughly. Before taking any further step, you have to analyze what your requirements are and only then should you invest your money while bringing a table home. This is why I have decided to write on the topic " Router Table vs Shaper – Which One To Choose? " to show you what's possible with both these options and why you should consider them.
So what are you waiting for? Scroll and get started!
Why should you choose a router table?
A router table is essentially a woodworking machine in which the spindle of a woodworking router protrudes vertically. The cutter heads used here are also known as router bits. The plunge router is usually observed at the bottom of the table.
Firstly, let's talk about the cost. Are you a beginner with minimum or no expertise at all? You might also be a newcomer in opening your own woodworking place with fewer finances. This is undoubtedly the reason why you can choose a router table initially. Let us elaborate upon the prices of a router.
If you consider a plunge router the prices including a lift, tabletop, work hold-down, and other parts can total up into $800. If you need replacement bits, it won't cost you more than 20$ maximum. These price levels, therefore, make themselves suitable for newbies who are less on funds but have to manage their space at the woodwork store.
Now let's hop on to discuss the tooling of a router table. The diameter of router bits is way too small in comparison to a shaper. Thus, if your piece of work lies in the sphere of small size and delicate working, then the router table will be ideal for you. Now, because the diameter of the router is lower, the revolutions per second are higher in comparison to shapers. The advantage that this feature possesses is that the user can make cleaner cuts and is able to make more contact with the wood with ease.
If you're thinking of moving your workstation outside your store in case of some renovations or for any other reason for that matter, a router table should be something that you invest in. It can be used for performing a variety of jobs and aids in easy transportation as well. Moreover, several profile cuts are possible through a router table in case you are working with small workpieces.
Wait! Was that a lot to handle in one go? No problem at all! Just read the pros and cons to understand if you are making the right choice or not!
Pros:
A good option for beginners.
It can work for delicate articles and smaller spaces.
Revolutions per second are higher in a router.
Jeremy Broun, in his book, called a router as the most versatile tool in the world.
Cons:
It is not sturdy in comparison to a shaper.
The noise is more in case of a router.
Multiple passes are needed for one complex profile.
It can disrupt its functioning if made to perform heavy-duty work.
If you have decided to stick to a router, the Bosch Benchtop Router Table RA1181 is an excellent option to consider. Read its features in the following points:
No products found.
The design features a large top which is made of aluminum, which aids in extending the work area.
It is durable and precise.
The mounting table is predrilled to provide it compatibility in case it has to be used with other routers.
The aluminum fences are extra tall but can be adjusted to maximize versatility and precision.
Why should you buy a shaper?
As we did before, let's begin by discussing the price. The price of a shaper ranges between $350 to $5000 depending on the quality. The price range of a shaper cutter begins from $200. This analysis proves that a shaper is costlier than a router and a router table, and as such, you've got to consider them in this perspective. Therefore, if you're ok with finances or you'd like to upgrade your woodwork store, go for a shaper, and you won't regret your decision!
Not only this, but a shaper also brings in the advantage of adaptability. Any woodwork stores having a shaper would certainly have router bits lying around. This is because a majority of shapers accept router bits with the aid of an adapter. Most shops don't run without routers and as such when a replacement is made. Router bits are generally used again. This prevents wastage and promotes utilization.
If you consider the tooling part of a shaper, then you should know that a shaper is generally known as a more powerful router. Thanks to its power, which is comparatively more significant than that of a router, it's performance can be utilized in complex tasks during profile cutting. If you had to pass an intricate cut using a router, the required attempts would be three or more, but if you had to do the same thing through a shaper them one pass is enough! As I said, a shaper is pretty powerful!
If you have ever noticed more extensive profiles like those of crown moldings as well as raised panels, these are difficult to achieve with a router, while a shaper makes this job super easy.
As you might have already made out of the instances above, the profiling process through a shaper takes place a lot more quickly than the router. Because it takes place smoothly, a lot of time is not wasted in case of redoing the passing over and over again. Being a woodworker, you must be knowing what the value of time is, and if you suffer from this issue, then investing in a shaper might be the option for you!
Unlike a router, which is designed for lighter duty work, a shaper is made for work in large volumes. Now, our common sense would say that a light-duty worker shouldn't be pushed to do tasks that are heavy duty. This directly implies that if you use a router for massive work volumes, it might disrupt the functioning all together and as such may also prove to be dangerous.
Moreover, a point of information regarding shapers would also state that they make much less noise as compared to a router which is attached under a router table. They are sturdier because the shaper belts are primarily designed to function on slower speeds. Oh, wait! You will understand clearly once you analyze the pros and cons. So let's begin:
Pros:
Router bits can be used with the aid of an adapter.
A single pass is enough for a complex profile.
It makes less noise in comparison to a router.
Shaper is a lot sturdier than a router.
It is specially designed for heavy-duty work.
Cons:
The price of the quotient is high.
If you've set your mind on this, the JET JWS 35X5-1 Wood Shaper is an excellent option to consider. Read about its features in the following points:
Maximum power is transferred to the spindle through poly-v-belts.
The ground cast iron table is large, which provide a durable area.
The right and left fences are independently adjustable.
The fences are provided with micro adjust controls.
The motor is powerful, having 5HP 1Ph power and also have magnetic controls.
My second recommendation is:
No products found.
CONCLUSION :
I strongly believe that now the question turns to you for its answer. Ask yourself what exactly is the reason why you need to purchase out of the two. Include all the possibilities like depth or length of cut, simplicity or complexity in profiling, beginner or expert level usage, light, and delicate or heavy-duty work, etc. and decide for your self.
There are many sources which quote that there's tiny a shaper can do a router can't duplicate that, but if you enter into precise knowledge, you will be able to appreciate the difference between both.
As you know, it's your outlook that will determine what sort of outcome you receive in your project. This is why these are only tools which will guide you through the ease of profiling, cutting, etc. Thus, choosing the right one becomes a necessity if you aspire to deduce a workpiece of the highest quality.
I hope this guide was able to help you! Happy wood-working!
You May Also Like These Articles: