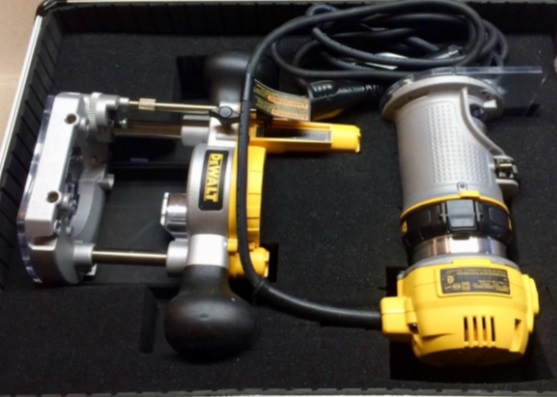 It is an undeniable fact that the woodworking products and tools manufactured by Dewalt are universally acclaimed. The company is preserving a rich legacy of manufacturing utility products in accordance with the changing times as well as user demands and priorities. When it comes to wood designing and trimming works, the company is known for producing improved versions of wood routers that stand the test of time.
The product that we are going to discuss is known for delivering power even for the toughest woodworking applications. It is known for functioning on variable speed controls and accurate depth adjustments with the easiest mode of motor pack removal. Yes, here we are going to talk about DEWALT DWP611PK Wood Router and what are the benefits that it can fetch for the user in its combo kit with LEDs.

Who Should Buy Dewalt DWP611PK Combo Kit?
DEWALT DWP611PK Wood Router combo kit is a good choice for both home-makers and professionals who are seeking basic to meticulous designing and trimming works on the given piece of wood. The adjustable controls are easy to understand and learn even for a user using the kit for the first time.
Product Description of Dewalt DWP611PK
Table could not be displayed.
Features That Make DEWALT DWP611PK A Trusted Name
The following are some of the key features that make this wood router an exciting choice for various types of woodworking professionals. Here, I wish to make sure that all the features that we are going to enlist down here would not be the ones that are proclaimed by the company, rather ones which I have personally experienced in the last 5 months of combo kit usage.
Excellent Clamping Mechanism
One thing that I personally liked very much about this router is the fact that its motor remains fully locked to the given position. Though the feature is meant for the fixed base only, yet I found it much of a help. The router features a depth ring at the base to ensure better inter-locking features to help the machine work without much manual intervention.
Soft-starting Mechanism-Based Motor
The motor is not only less noisy compared to other brands, but also maintains a constant motor speed effectively helpful to carve out the smoothest design. The reason that I know this wood router offers a soft-starting mechanism-based motor is because I have used wood routers from both Porter-Cable and Makita in the past and can confidently say that in terms of smooth functioning, the Dewalt DWP611PK motor can outperform both the brands.
Suitable for Both Heavier Applications and Template Guides
The router offers added stability when it is being used for heavier applications. Thanks to a large plunge base, all kinds of heavy-duty vibrations can be neutralized to a good extent, reducing stress and fatigue to the arms and the shoulders. Besides, the sub-base is constructed in such a manner that it accepts all types of universal router template guides. The more style guides you can use, the better the creative crafting you can achieve.
Achieving Good Depth Travel
The application of both plunge and standard base offers reliable depth travel to complete most of the woodworking tasks right in a single go. With a plunge base, you can achieve a cutting depth of 2 inches and with a standard base, it would go up to 1.5 inches. I have personally tried it and can verify the company claim and personally speaking, it is a fair deal.
Durable
Though 5 months is not a large tenure, yet I can say that it can perform heavy-duty applications on a consistent basis without bringing you any disappointment. The lion's share of credit goes to the aluminum case protecting the motor from external damages. The motor is certainly the heart of the router and safeguarding the same guarantees longevity in performance.
The features that we have briefly discussed above are some of the conspicuous ones that help you decide how the wood router purchase from DEWALT made by you is the most prudent choice in the given context. But simultaneously, it is necessary to focus on the pros and cons associated with this popular product of Dewalt that would eventually influence your decision to select or reject the same.
NOTE: Speed Selection Chart of Dewalt DWP611PK Combo Router Kit: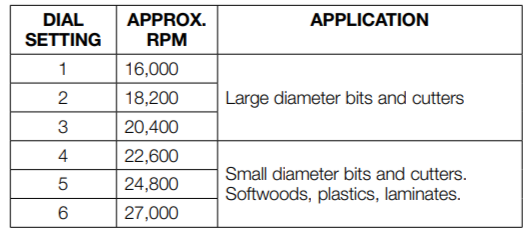 Pros & Cons of Dewalt DWP611PK
PROS
✓ The motor offers a robust application of 1.25HP to seamlessly handle any size wood in relatively small time and effort.
✓ The combo kit features dual LEDs as well as a clear sub-base to ensure best possible visibility while working on the edges or beneath the wooden platform.
✓ The product comes with 3 years limited warranty, 1 year free service and 90 days money back guarantee. It is even better than some of the companies like Bosch, that offer a money back guarantee of 30 days in some of its router models.
CONS
✗ Though I have not personally experienced the same, but do came across some of the reviews claiming that the router gets hot after a very long run and even melt parts internally. The user negligence is always a possibility, hence I advise you to carefully go through the instruction manual to leave no room for error from your end.
✗ The following problem is surely something that I have personally experienced. I still cannot find the dust collection system for DWP611PK model on e-commerce sites inclusive to the marked price. I also asked some of the offline dealers and sales representatives that I personally know, but you are required to order it for separate bucks. I would be more than glad if anyone could help me out in the same regard.
Alternative of Dewalt DWP611PK Wood Router Combo Kit
Like we always say, there is no product without shortcomings, and so is this one. The product is good for the billed amount, but as it indicated a combo kit, I would have been happier if they had included a dust collection system in the kit itself without a separate price tag.
If you are interested in exploring an alternative product with almost identical features and a nearby price range, then I would suggest going for Bosch 1617EVSPK Wood Router Tool Combo Kit.
Final Conclusion
CONCLUSION:
DEWALT DWP611PK Wood Router Combo Kit is certainly an answer for most of your basic to modern woodwork design needs. The motor is reliable along with a proper clamping mechanism and base support. The dual LEDs in the kit are also helpful in poorly lit areas as well as tight corners requiring extra lighting to work.
I consider it safe to recommend the product to you and would be happy to come across your opinions and feedback, once you receive and use this much-in-demand router combo kit yourself.
No products found.