Hi there. Hope, you have watched my previous article about " best wood router ".  In this section, I am not going to list about 15 best cheap wood routers under $100 because there are very few and some of them are too bad. So, I will write about only 4 best cheap wood router and I think that is enough if you need it for temporary work. While writing about the best wood router I thought why not to mention some cheap wood router which is good. Here, good means best for those who are not professionals and who need a strong cheap wood router for temporary work. These type of people don't want to spend a lot of money on the costly wood routers, so they search for the cheap one which is also durable and can do most of the jobs that are required of them. Here is the infographic: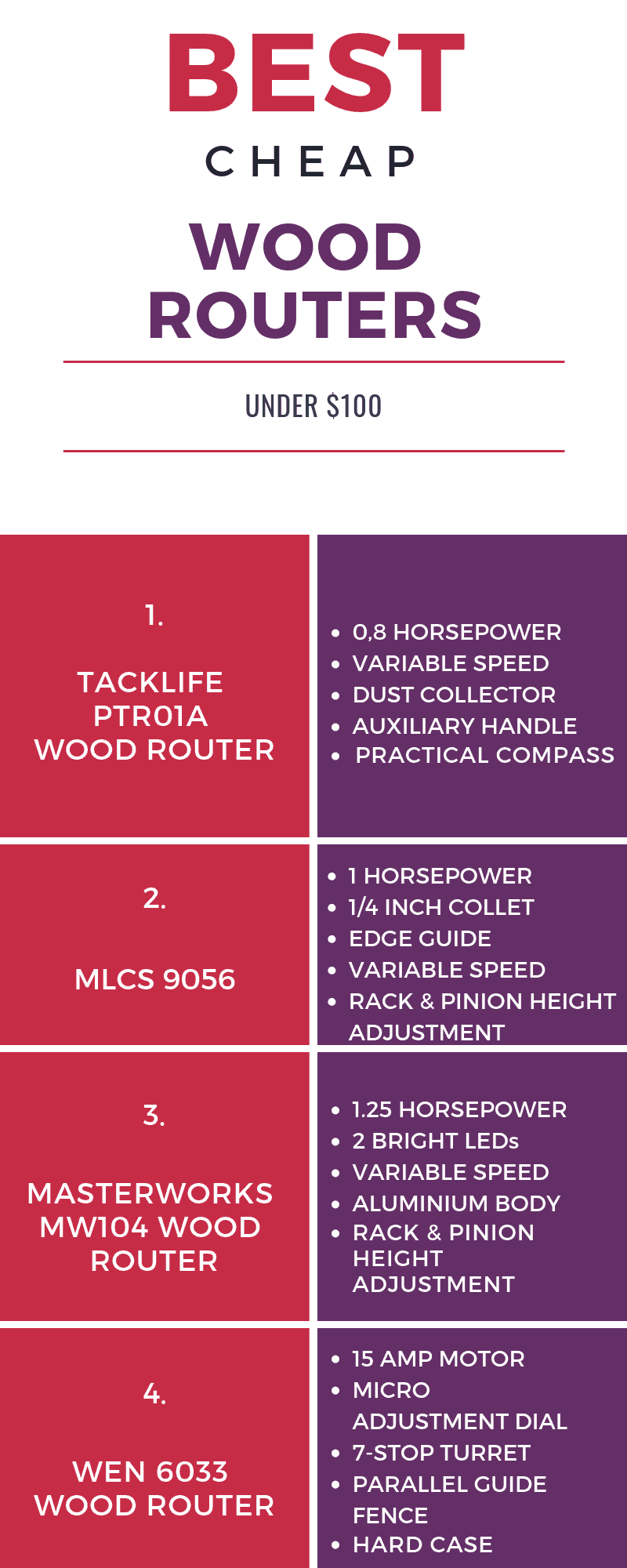 Share this Infographic On Your Site
This is a 0.8 horsepower wood router which comes with an aluminum base plate, depth gauge, chip deflector, and 6 variable speed control dial.
A pure 5-Amp copper motor delivers efficient cutting with a speed range from 10,000 to 30,000RPM.
This is a fixed and plunge wood router suitable for woodworking jobs like door processing, furniture processing, edge finishing, crafting and many more.
Its 3Meters long power cord makes it more flexible and convenient for users. This wood router is also e

quipped with a vacuum dust collection port which can be connected to a vacuum cleaner or dust bag.

This router a scaled compass that enables you to create a circle with a diameter from 8 t0 40-inch and helps to do the precision round hole, round table, and round hole job.

It has a 1/4inch collet for the router and 1/8inch collet for the flexible shaft, providing more choices for your routing programs.

It has an a

uxiliary handle which is ideal for milling effect and improves the user experience by reducing fatigue for one hand operation.
No Warranty on this wood router.
PROS & CONS:
| | |
| --- | --- |
| PROS | CONS |
| 1. The vacuum port on the router works quite well and is able to extract most of the dust. | 1. The router bit seems to get stuck in the collet and, after loosening the nut. |
| 2. You do get an edge guide and a circle jig. | 2. The collet sits too close to the opening to use the upward spiral bit |
| 3. Lightweight with high-quality bits made of high-quality steel. | 3. No micro adjustment on the depth. |
| 4. The one-meter wand is handy for doing smaller cuts or groove. | 4. Freehand attachment is unusable. |
Also read about router table reviews along with buyer's guide 
Here
 & to know about why do we need them 
Click Here
This is a one horsepower trim or palm wood router which has a speed control dial on the top of the motor housing that is is adjustable from 10,000 rpm to 30,000 rpm.
The router has a double insulated motor that features a spindle-locking button to facilitate single wrench bit changes.
It has a metal base which uses a rack and pinion system to adjust the height of the motor and has a flip lever to lock the motor at the desired height.
Rubber pad partially wraps the base to provide a positive gripping surface when holding the router in your palm. It has 1/4 inch collet, f

lush trimming attachment, and an edge guide.
This wood router is GUARANTEED against defects in workmanship and materials for 3 years from the date of purchase.
PROS & CONS:
| | |
| --- | --- |
| PROS | CONS |
| 1. The vacuum port on the router works quite well and is able to extract most of the dust. | 1. Not good for heavy woodworking. |
| 2. Small and Compact. | 2. Base- and the height adjustment are sloppy |
| 3. Comes with extra commutator brushes. | 3. Speed dial only seems to restrict the power making rpm fluctuate. |
| 4. Great for trimming purpose. | 4. Gets hot |
This is a one and quarter horsepower wood router with 6.5 Amp powerful motor which has a variable speed control dial from 10000 to 32000 RPM that allows you to choose a more appropriate speed for different materials.
It comes with an edge guide, roller guide,  3/8" and 1/4" collet, wrench, carbon brushes, tool bag, and dust hood.
MW104 router also includes two LED lights.
Comes with a smooth rack and pinion depth adjustment system that ensures precise operation for a range of woodworking applications.
The rubber-covered base protects your working surface and dust hood removes dust resulting in clean workspace space.
It comes with a variety of bits:
) 1x 1/4" Straight bit,
) 1x 3/8" Straight bit,
) 1x R1/4" Round-over bit,
) 1x 3/8" Flush trim bit &
) 1x R1/4" Cove Bit
No Warranty on this wood router
PROS & CONS:
| | |
| --- | --- |
| PROS | CONS |
| 1. Two LED Lights. | 1.  Quality control is lacking. |
| 2. All parts and accessories are completely interchangeable with the Makita. | 2. Runs louder and hotter. |
| 3. The motor is well machined with good fit and tight tolerance. | 3. Felt vibration is more at higher speeds. |
| 4. It comes with a lot of accessories. | 4.  Fit and finish of the base are very rough. |
Wen 6033 is a two and quarter horsepower variable speed plunge wood router that comes with a 15-Amp powerful motor which provides you anywhere from 8,000 to 23,000 rotations per minute.
It accepts both 1/4 and 1/2-inch router bits with a plunge depth of up to 2-3/8 inches.
Soft startup design prevents damage to the workpiece and elongates the tool's lifespan.
This router has a depth adjustment dial that advances the depth stop 5/16 of an inch per quarter turn, and a fine-tune adjustment dial that advances it 1/128 of an inch per quarter turn.
On the base of the router, a 7-stop rotating turret is present so that you can increase or decrease your cutting depth by 1/8 inch increments.
The spring-loaded base gives a lock-down knob feature to turn your plunge router into a fixed router.
 The warranty can be requested from customer service.
PROS & CONS:
| | |
| --- | --- |
| PROS | CONS |
| 1. It includes profiling guide. | 1.  The adaptor is missing for 1/4 inch bit. |
| 2. All parts and accessories are completely interchangeable with the Makita. | 2. It is difficult to adjust the depth of cut. |
| 3. It is a combination plunge and fixed base router all in one. | 3.  It is heavy and loud. |
| 4. Works fine as a fixed router. | 4. Plunge mechanism is difficult to use. |
You might be thinking why I haven't mentioned the name of the famous cheap branded wood router i.e.
Makita RT0701C 1-1/4 HP Compact Router
Because I already mentioned this name in my 15 Best Wood Router list and I have also described it briefly along with buyer's guide.
If you want to read about this router then go here:  Best Wood Router
THIS MAKITA ROUTER IS NUMBER ONE IN MY LIST OF BEST CHEAP ROUTER UNDER $100.
You can buy this router from Amazon:
You may have also heard about Ryobi P601 wood router. I didn't mention this in my list because I didn't like it so much. I do not recommend this because it is not so durable and you will not get the battery with this. It will cost you more than $100 if you buy a battery with this. Without a battery, it is useless. But if you are a Ryobi fan and want to buy this wood router then you can find it here:
Related Buyer's Guides & top15products lists